2 June 2005 Edition
Dublin's blind eye to Lisburn sectarianism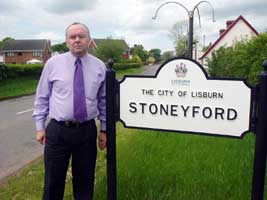 Sinn Féin Lisburn Councillor Paul Butler is accusing the Dublin Government of turning its back on northern nationalists by ignoring the ongoing campaign of sectarian attacks and intimidation in the Lisburn area, especially in the village of Stoneyford.
Butler accused the Dublin Government of accepting PSNI briefings, which deny loyalist attacks are continuing.
"I have sent dossiers about sectarian attacks, mostly carried out by unionist paramilitaries, not only in Stoneyford but all over the Lisburn Council area, to the Irish Government, but they now tell us they believe the word of the PSNI, a totally discredited force, while ignoring the ongoing campaign against the nationalist population," said Butler.
In a separate development, Dublin Government observers were invited by Sinn Féin to attend Lisburn Council's Annual General Meeting on Wednesday 18 May, which saw the majority DUP combine with the Alliance Party to exclude Sinn Féin from any of the committee chair or vice chair positions. They chose not to attend.
"They have once again failed the nationalist population of Lisburn by not attending the AGM were they could have witnessed the blatant discrimination in the council," said Butler.
On Tuesday, An Phoblacht travelled to Stoneyford with the Sinn Féin councillor.
The first thing we witnessed on entering the village was the boarded up and derelict Stoneyford Inn, once a thriving nationalist-owned business before the family were intimidated out of the area by a well known unionist paramilitary with links to the Orange Volunteers.
The man behind the campaign has been arrested by the PSNI on numerous occasions but has always been released without charge. "The PSNI are refusing to bring some of those responsible for these sectarian attacks to task and instead protect them, as these individuals are acting as agents of the state," said Butler.
Further up the village street old and torn Union and loyalist paramilitary flags and bunting fly from telegraph poles. A number of Catholic families have already left the area due to loyalist harassment.
The most serious incident occurred when 21-year-old Catholic James McMahon died in hospital six days after he was beaten by a loyalist gang yards from Lisburn Council civic offices in November 2002.
"Loyalist violence is encouraged by the activities of political unionism on Lisburn Council, who refuse to endorse power sharing," said Butler. "By doing so, they serve only to give succour to those loyalists intent on intimidating Catholics from Lisburn.
"The Irish Government are burying their heads in the sand and ignoring the sectarian onslaught directed at nationalists in this area and are totally shutting their eyes to the failure of the Democratic Unionist Party to commit to power sharing."