2 June 2005 Edition
James Connolly: Remembering the Past
BY SHANE Mac THOMÁIS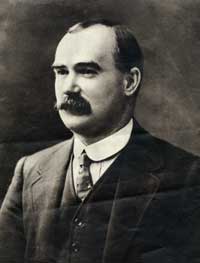 James Connolly was born at 107, the Cowgate, Edinburgh. His parents, John and Mary Connolly, had emigrated to Edinburgh from County Monaghan in the 1850s. His father worked as a manure carter, removing dung from the streets at night, and his mother was a domestic servant who suffered from chronic bronchitis and died when Connolly was just a boy.
James attended St Patrick's School in the Cowgate, with his two older brothers. At ten years of age, he left school and got a job with Edinburgh's Evening News, where he worked as a 'Devil', cleaning inky rollers. In 1882, aged 14, he joined the British Army in which he was to remain for nearly seven years, all of it in Ireland
While serving in Ireland, he met his future wife, a Protestant named Lillie Reynolds. They were engaged in 1888 and the following year Connolly discharged himself from the British Army and went back to Scotland. In 1890, he and Lillie Reynolds were wed in Perth.
In the spring of 1890, James and Lillie moved to Edinburgh and lived at 22 West Port, where he joined his father and brother, working as casual labourers and then as a manure carter with Edinburgh Corporation.
Connolly became active in socialist and trade union circles and became secretary of the Scottish Socialist Federation. During this time, he also became involved with the Independent Labour Party, which Kier Hardie had formed in 1893.
In late 1894, Connolly lost his job with the corporation. He opened an unsuccessful cobbler's shop in February 1895 at number 73 Bucclevch Street. At the invitation of the Scottish Socialist, John Leslie, he visited Dublin in May 1896. James and Lillie Connolly and their three daughters, Nora, Mona and Aideen, set sail for Dublin in 1896, where he founded the Irish Socialist Republican Party in May of that year.
In 1898, Connolly had to return to Scotland on a lecture and fundraising tour. Before he left Ireland, he had founded The Workers' Republic newspaper, the first Irish socialist paper, from his house at number 54 Pimlico, where he lived with his wife and three daughters. Six other families, a total of 30 people, also lived in number 54 Pimlico, at the same time.
In 1902, he went on a five-month lecture tour of the United States and returned to Edinburgh, where he worked for the Scottish District of the Social Democratic Federation.
He then chaired the inaugural meeting of the Socialist Labour Party in 1903 but, when his party failed to make any headway, Connolly became disillusioned and in September 1903 he emigrated to the US. There, he founded the Irish Socialist Federation in New York, and another newspaper, The Harp.
In 1910, he returned to Ireland and in June of the following year he became Belfast organiser for the Irish Transport and General Workers' Union. In 1913, he co-founded the Labour Party and in 1914 he organised, with James Larkin, opposition to the Employers' Federation in the Great Lock Out of workers. That year, 1913, had also seen Connolly co-found the Irish Citizen Army. When Larkin left on a fundraising tour of the United States in 1914, where he was arrested and sentenced to ten years in prison for his political activities, Connolly became Acting General Secretary of the ITGWU.
That same year, millions of workers went off to be slaughtered in the First World War, Connolly was devastated. All over Europe, even socialists succumbed to the poison of jingoism, joining the war efforts in their respective countries and thus heralding the end of the Second International, in which various socialist parties and figures had vowed to rail against the war and the slaughter of worker by worker.
The British Government attempted to buy off Irish sentiment in support of outright independence from the Empire with a Home Rule Bill
It was now that Connolly's position shifted with regard to physical force. Previously, he had wanted no part in it, eschewing it as reckless and contrary to the orthodox Marxist doctrine of a mass revolution of the working class, whereby consciousness precedes action. But with the retreat of the European socialists, and the failure of the trade unions to act against the war, Connolly despaired of ever achieving the society he had dedicated his life to without armed struggle.
The IRB was planning just the kind of insurrection Connolly had in mind. He had taken a dim view of the IRB and its leaders up until then. However, when he heard their plans, he agreed to join them with his own Irish Citizen Army Volunteers.
Connolly was in command of the GPO during Easter Week, and was severely wounded. He was arrested and court-martialled following the surrender. On 9 May 1916, James Connolly was propped up in bed before a court-martial and sentenced to die by firing squad — he was at that time being held in the military hospital in Dublin Castle. In a leading article in the Irish Independent on 10 May, William Martin Murphy, who had led the employers during the 1913 Lock Out, urged the British Government to execute Connolly.
At dawn on 12 May, James Connolly was taken by ambulance from Dublin Castle to Kilmainham Jail, carried on a stretcher into the prison yard, strapped into a chair in a corner of the yard and executed by firing squad
When news of the Rising was released, many European socialists dismissed it as a putsch of little or no great consequence. However, Lenin refuted those criticisms in his article, The Results of the Discussion on Self-Determination.
"Those who can term such a rising a Putsch are either the worst kind of reactionaries or hopeless doctrinaires, incapable of imagining the social revolution as a living phenomenon," he wrote.
On 5 June 1868, 137 years ago, James Connolly was born.
An Phoblacht Magazine
AN PHOBLACHT MAGAZINE:
Don't miss your chance to get the second edition of the 2019 magazine, published to coincide with Easter Week
This special edition which focuses on Irish Unity, features articles by Pearse Doherty, Dr Thomas Paul and Martina Anderson.
Pearse sets out the argument for an United Ireland Economy whilst Pat Sheehan makes the case for a universally free all-island health service.
Other articles include, 'Ceist teanga in Éirinn Aontaithe', 'Getting to a new Ireland' and 'Ireland 1918-22: The people's revolution'.