2 June 2005 Edition
Building a Republican Labour Coalition BY JIM McVEIGH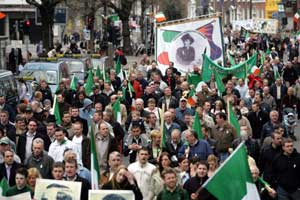 The over-riding aim for republicans in the years ahead must be to continue to build our political strength across the island, to build a revolutionary party the length and breadth of Ireland. We must double, then triple our support, particularly in the 26 Counties, if we are to have any real prospect of ending partition and establishing a radical republican government. We need something like a ten-year strategy to do this.
However we develop our strategy or change our tactics, the only real litmus test of their value is their ability to deliver growth. Does this or that tactic, what we say or do, help broaden our base or not? These are the simple questions we must continually ask ourselves.
Of course it must not be growth at any price. We should have no desire to simply replace the SDLP or Fianna Fail. The means with which we engage in politics, as well as our objective, must be different from our opponents. I believe we must and indeed will only come to power on the back of a radical mass movement that unites left-wing political parties and activists, radical trade unionists, community activists and environmental campaigners in a broad left of centre coalition, a coalition led by Sinn Féin.
The Republic that we seek to see established, one based firmly upon the egalitarian principles of the 1916 Proclamation, can only come into being on the back of a democratic revolution. The change that we seek must be profound, not merely cosmetic.
But before I slip into a series of socialist clichés courtesy of the Socialist Workers' Party or the IRSP, let me say that rhetoric is no substitute for substance. We need to continue to build our struggle not upon slogans or meaningless theories, but upon community activism, hard graft and hard won respect within communities.
Our struggle is a national liberation struggle, one that, in this phase at least, sets before it as its primary objective the ending of partition and the establishment of a national government. Ours is not a simple class struggle, with the battle lines drawn left and right. We must in this phase, in the words of Nelson Mandela, 'Bind the wounds of the Nation', indeed build a nation where none now exists.
That is why we entered, and I believe must do so again, a necessary coalition in the Six Counties with parties that were in effect our bitterest ideological opponents. And to this task, we must pay more than lip service. How do we begin a real dialogue with unionists and one that is not merely confined to the fringes of unionist society here in the North? This is the most difficult and pressing challenge facing republicans today.
While as I said earlier, rhetoric is no substitute for substance, I do believe that republicans must begin to talk more, among ourselves and critically with others, about what a radical republican government might look like. And I use the word radical quite deliberately. Our programme in this phase of the struggle must be radical yes, but inclusive also, one that broadens our base, not reduces it. Having said that, our historical problem is that we have tended to be too conservative, not too radical. Our struggle has been too easily defined as nationalist in character, both by ourselves and our opponents.
Some time ago Gerry Adams spoke of the need to build a broad-based republican labour coalition. This idea appears from time to time and then quietly disappears again, though in fairness to Gerry Adams, he is one of the few republican leaders who bothers to raise this question of left republican politics at all. Why is that?
I believe this is an absolutely vital discussion for republicans. We must develop a coherent left republican strategy and perspective and we must begin to articulate that perspective more publicly.
Eoin O Broin, in a recent article, raised the prospect of a left alternative coalition government in the 26 Counties comprising Sinn Féin, The Labour Party, the Greens and radical Independents. Only recently, Derek McDowell, a Labour Party Senator, floated the idea of such a coalition in an article in the Irish Times. This should become a serious long-term objective of ours.
Of course, it is difficult to imagine such a coalition now, when Pat Rabbitte and Trevor Sargent seem only too keen to insult republicans. Nonetheless, we should engage the many thousand of decent Labour and Green Party activists, trade unionists, etc, who might be willing to consider such a coalition.
Let us call for an Adams, Rabbitte, Sargent dialogue, even if such a call is rejected at this time. Perhaps we could establish informal Republican/Labour Forums at grassroots level to begin a dialogue that excludes the aristocracy of labour?
From Mountjoy Jail in 1922, Liam Mellows appealed to the republican leadership to declare for a left republican government and to rally labour to its cause. Instead, it retreated into a cul-de-sac and was swept aside by a counter-revolution. We should not repeat the mistakes of the past, rather we should seize the opportunity now in front of us and strive for the republic of Connolly, Markievicz, Mellows and Sands.
An Phoblacht Magazine
AN PHOBLACHT MAGAZINE:
Don't miss your chance to get the second edition of the 2019 magazine, published to coincide with Easter Week
This special edition which focuses on Irish Unity, features articles by Pearse Doherty, Dr Thomas Paul and Martina Anderson.
Pearse sets out the argument for an United Ireland Economy whilst Pat Sheehan makes the case for a universally free all-island health service.
Other articles include, 'Ceist teanga in Éirinn Aontaithe', 'Getting to a new Ireland' and 'Ireland 1918-22: The people's revolution'.