2 June 2005 Edition
Rewarded for abusing the elderly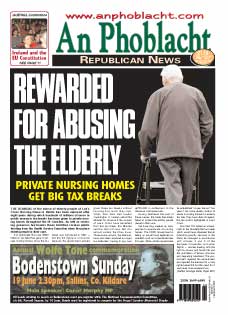 Private nursing homes get big tax breaks
The scandal of the abuse of elderly people at Lea's Cross Nursing Home in Dublin has been exposed after eight years during which hundreds of millions of euros in public money in tax breaks has been given to private nursing homes throughout the 26 Counties. As well as receiving generous tax breaks these facilities receive public funding from the Health Service Executive when they place elderly people in their care.
It is estimated that over €500 million in tax relief has gone to private nursing homes since the tax break was introduced in 1997 — but the full figure is not known because the government actually gives these tax breaks without knowing how much they cost. When Sinn Féin Dáil leader Caoimhghín Ó Caoláin asked the Minister for Finance if the owners of Lea's Cross have benefited from this tax break, the Minister said he did not know. But it is almost certain that they have. These same owners, the Ahernes, have also been exposed as major tax defaulters, having to pay over €750,000 in settlement to the Revenue Commissioners.
Having feathered the nest of these owners, the State then totally failed to protect the elderly people placed in their care.
We have long needed an independent inspectorate of nursing homes. The FF/PD Government is telling us we will have legislation to establish such an inspectorate later this year. When will the inspectorate be established? A year hence? Two years? For some elderly victims of abuse in nursing homes it is already too late. They have died of neglect, like the victims highlighted in Lea's Cross.
Sinn Féin TDs tabled an amendment to the Disability Bill last week which would have stipulated that all disability-specific services in the State be managed in accordance with Articles 3 and 8 of the European Convention on Human Rights — articles dealing with the right to privacy and family life and the prohibition of torture, inhuman and degrading treatment. The government rejected the amendment and rejected the demand for a truly rights-based Bill but the need for it was never more apparent now.