26 May 2005 Edition
Rousing Noraid AGM in Phillie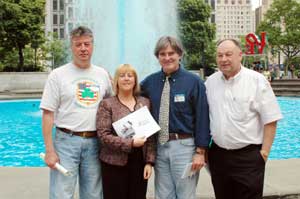 Bernice Swift, County Fermanagh project manager with An Fírinne (the victims of state violence group) was invited out as a speaker on behalf of Sinn Féin to address the Irish Northern Aid (INA) AGM last weekend in Philadelphia.
Bernice's trip and flight schedule had to be tailored so that she could be back home in time to Fermanagh District Council for her first council meeting, as newly-elected Sinn Féin representative for Erne West. She flew out on Friday morning last to New York and back to Dublin on Monday morning.
The AGM was a wonderful success, with delegates travelling in from all over the United States. Bernice had previously met some of them in December in the Midwest and West Coast, while on a ten-city whistlestop speaking tour on collusion, before ending up on Capitol Hill making a submission to Congress.
The AGM was chaired by Paul Doris, Director of INA. Political Education Officer Gerry Coleman addressed the meeting on the Case for a United Ireland. Each regional director gave a report from their areas and after Bernice's keynote speech, which received resounding applause and a standing ovation, ideas flowed as to help on the international platform with the way forward in demanding the truth from the British Government as their brutal and oppressive role as a major protagonist in the conflict.
Bernice congratulated the delegates from across the United States for their work and for taking the time, effort, and expense to attend the AGM. "This is really indicative of the volunteer spirit/individual commitment, which has seen INA contribute to the struggle for Irish national territorial re-unification, political independence and sovereignty for more than three decades," she said. "The struggle continues."
The evening rounded off with an historic tour of Philadelphia, dinner and dancing to an Irish rock band.