26 May 2005 Edition
Wave of sectarian attacks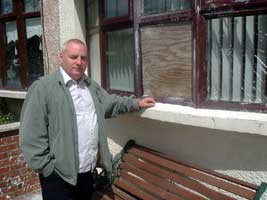 A wave of sectarian attacks in the Six Counties has fuelled fears of a unionist paramilitary campaign of intimidation as the marching season approaches. The UDA has been blamed for a series of attacks on Catholic cars and homes over the weekend.
In North Belfast, beginning late Friday night and continuing into the early hours of Saturday morning, there was a spate of sectarian attacks against nationalist residents from Ligoniel down to Summerdale, off the Crumlin Road. Towards Ardoyne, other attacks took place in Cliftondene Crescent, where three homes were attacked, two of which were specifically targeted because the residents were Catholic.
At around 11pm, a car in Cliftondene Crescent was destroyed by a petrol bomb and paint was thrown at three houses. The owner of the car, a woman taxi driver said her eleven-year-old son had been showered in glass as the windows of her house were also smashed.
She described her ordeal as terrifying. "I have lived here nearly four years and I have good neighbours, both Catholic and Protestant," she said. The UDA is believed to have been behind the series of attacks. Unionist paramilitary violence has been linked to recent legal action against members of the Orange Order.
Two senior Orangemen have been charged with allowing the playing of a sectarian song outside, St Matthew's, a Catholic church in east Belfast during July last year. Loyalist Commission chairperson Mervyn Gibson said, "Protestants have been treated in a disgraceful way over this issue.
"The community I represent is not going to take this lying down," said Gibson. "We have listened to the Sash being played on the Newtownards Road for more than a hundred years and we are not going to be robbed of our culture."
"These were clearly well planned and co-ordinated attacks," said North Belfast Assembly member Gerry Kelly. "I have no doubt they were carried out by one of the unionist paramilitary gangs. These types of attacks, on the eve of the marching season, follow a well-worn path. This latest wave of unionist intimidation has been timed to try and influence policy around forthcoming controversial parades in this area."
Tension in the area was exacerbated when further trouble broke out between rival football gangs following the conclusion of the Scottish Premiership between Celtic and Rangers on Sunday afternoon. An initial skirmish close to the Ardoyne shops sparked a series of confrontations on the Limestone and Whitewell Roads.
Gerry Kelly called on people on both sides to stay level headed. "North Belfast witnessed a number of loyalist attacks over the weekend before the trouble on Sunday afternoon. No on wants this type of thing. All attacks, from which ever side they come, are wrong," he said.
Sectarian attacks also took place in other counties throughout the Six Counties. In the County Antrim village of Ahoghill, the home of an elderly woman living alone was petrol bombed in the latest of a series of sectarian attacks by unionist paramilitaries determined to force Catholic residents to move out of a predominantly Protestant area.
Kathleen McGaughey, a grandmother, was at home at the time of the attack. A petrol bomb was thrown at the front of the house on Brookfield Gardens shortly before 4am in the early hours of Sunday morning. The device missed its target and although it ignited, caused no serious damage. However, any attempt to set fire to the house of an elderly person at a time when they will be sleeping is clearly attempted murder.
"This is a mixed area and I was born and reared here," Kathleen told the media. "I have lived in this house for 51 years and I will not be shifting for anyone. My neighbours have given me all the support they can."
The petrol bombing was just the latest in a series of unionist paramilitary attacks against Kathleen and a number of other Catholic families in the area. Local politicians have linked the increase frequency of attacks to the approaching Orange marching season.
Meanwhile, in a separate incident in Glengormley, petrol bombs were thrown at two cars at Farmley Gardens but the incident does not appear to have been sectarian.
In Derry, a hoax bomb attack in a nationalist area of the city is being linked to the UDA. Several families were evacuated from their homes in the Gelvin Gardens area of Waterside when the device, understood to have been a hoax pipe bomb, was discovered early on Monday morning.
Families in Gelvin Gardens had been warned of a possible attack shortly before midnight on Sunday night after a caller claiming to represent the Loyalist Action Force, a name used by the UDA, contacted the Samaritans. The device was discovered underneath a nearby vehicle.
Sinn Féin's Lynn Fleming said the families evacuated had been shocked and distressed. "People, including young children, were evacuated while they were still in their pyjamas," she said.
As the Orange marching season approaches, "those scary weeks that herald the cultural highlight of the unionist year" as Susan McKay writes, "there are more reasons the usual to be fearful".
McKay sees the UDA in disarray and likely to "seek unity by turning its rage on Catholics". And worse still, "the DUP is now in control of many of the areas which are particularly volatile.
"What we'll see from Paisley's party in the coming weeks is hard talk and sash waving about the right of the Loyal Orders to parade wherever they choose, whenever they choose and without obligation to engage in any kind of negotiation with the Catholics who get in their way," says McKay.
"The hardline triumphalism of the DUP in the summer after Paisley took over as the undisputed leader of unionism bodes ill on the streets."
Unionists bailed
Meanwhile, the undue leniency of the courts towards unionist paramilitaries, who have been granted bail despite facing serious charges, also bodes ill for the coming months. Last week, senior UDA leader, William 'Mo' Courtney was released on bail at Belfast High Court. Courtney has been charged with the murder of 21-year-old Alan McCullough, a former UDA member and associate of Johnny Adair.
McCullough's body was found on the outskirts of Belfast in June 2003. He was killed after he returned to the North after fleeing following the killing of UDA leader John Gregg in February of the same year.
Presiding Judge Hart said there was no justification for keeping Courtney in jail awaiting trial and gave the defendant a week to come up with £5,000 bail.
Courtney is the latest in the long line of unionist paramilitaries granted bail while facing serious charges. Earlier in the year, Laurence Kincaid, a senior north Belfast paramilitary, was granted bail despite being charged with possessing class A drugs with intent to supply.
UDA leader Andre Shoukri was also granted bail while facing charges of possessing a gun with intent to endanger life. Shoukri had been caught with the weapon during the UDA feud of 2003. A brother of Andre, Ihab Shoukri was also bailed while facing charges of murdering another loyalist Alan McCullough. In July 2003 unionist paramilitary, Jim Fullerton, had his bail conditions changed so that he could take part in an Orange parade.
Meanwhile, it has been revealed that a brutal attack from which the victim never recovered consciousness and died in March, six months later, was the work of the UDA. Last September, 55-year-old Stephen Nelson was beaten by a ten-man gang of UDA members in the foyer of the club in which the victim worked. Nelson is believed to have challenged the UDA drug dealing operation on the premises.
The home of Andre Shoukri, together with the home of another prominent unionist paramilitary, William 'Bonzer' Borland, was raided this week in connection with blackmail charges brought against four other members of the UDA. Four UDA members were arrested last week in connection with the blackmailing of a County Antrim businessman. Those charged also face firearm offences.
In June 2000, Borland and Shoukri were both jailed for UDA membership and the attempted extortion of a north Belfast restaurant owner.
Cunningham unmasked
A member of the Ulster Political Research Group and Loyalist Commission was unmasked as an active unionist paramilitary this week after he was recognised as a member of a masked UDA publicity stunt. Denis Cunningham from the Shankill appeared at a UDA press conference just hours after a Catholic murder victim was buried in 2002.
News also surfaced this week that the UVF member tasked by the organisation to investigate the killing of Bangor Catholic Lisa Dorrian is a convicted sectarian killer. Dorrian (25) disappeared from a County Down caravan site almost three months ago. The missing woman is believed to have been killed by unionist paramilitaries involved in drug dealing. The UVF blamed the LVF and announced an 'investigation'' believed to be headed by Samuel 'Uel' Cooke.
Cooke was jailed in 1994 for the brutal sectarian murder of Anne Marie Smyth, whose body was discovered on waste ground in east Belfast with her throat cut. She had been earlier lured into Cooke's house, where she was strangled.