26 May 2005 Edition
Members of Congress protest visa denial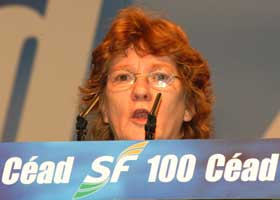 A large number of US Congressional Members have expressed their anger at the US State Department's decision to deny Sinn Féin representative Rita O'Hare a visa waiver for a trip to the US this week.
O'Hare was to travel with Sinn Féin Chief Negotiator Martin McGuinness to meet with members of the US Government administration, Congress and Irish American organisations.
Because of previous convictions for political offences, O'Hare has been allocated these waivers successfully for the past seven years and has been a key figure in promoting the Peace Process across the US.
One of the conditions of a visa waiver is that a detailed itinerary is given for each trip. An Irish Times article following the visa denial claimed that the US State Department was justifying its refusal of a waiver because O'Hare deviated from her schedule during a trip last January.
However, Martin McGuinness has explained that Rita merely travelled to a change of venue for a meeting with a key player in the Peace Process, and that the meeting had been listed in the itinerary. The move from New York to Florida was at the contact's request.
And since the January trip, O'Hare has travelled twice to the US with visa waivers, in March and April.
A number of Congressmen have now voiced their concerns with US Special Envoy to the North Mitchell Reiss, who is said to have been inundated with calls.
The US State Department has not yet confirmed why O'Hare was denied a waiver for this trip, citing confidentiality as a reason. However a spokesperson in Washington said it did not represent a change in policy towards Sinn Féin, and it is understood that the decision is only temporary.
Ambassador meeting
Meanwhile, O'Hare accompanied McGuinness to meet the US Ambassador to Ireland, James Kenny, last Friday, to update him on the Peace Process and to discuss the need for intensive efforts to get the process back on track.
"Sinn Féin believes that there is now a real opportunity to complete the work of bringing about a lasting peace in Ireland," McGuinness said. "We have been in contact with the Irish and British Governments and the White House in recent days to get the process back on track."