26 May 2005 Edition
The DUP and democracy - a contradiction in terms
BY PEADAR WHELAN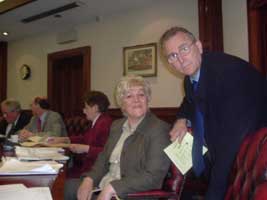 With a number of the North's councils holding their first meetings since the local elections over the past number of days, the eyes of many were turned towards Ballymena in North Antrim, where Monica Digney became the first ever Sinn Féin councillor to take her seat in the DUP-dominated chamber.
Media speculation over the weekend had it that some unhappy burghers from the Reverend Ian Paisley's heartland would be staging protests at the council chambers on the Galgorm Road to demonstrate their anger — or dismay — that nationalists would have the temerity to elect a Sinn Féin councillor in Ballymena.
As it turned out, there was no protest. As Digney told reporters on her way into the council building: "I think people have better things to do on a Monday night than to stand and heckle someone who has been democratically elected".
The mood of the DUP was, however, as expected.
Not only in Ballymena, but in nearby Ballymoney and Coleraine Councils, which all met on Monday 23 May, the DUP, basking in the arrogance of their recent electoral annihilation of the UUP and their dominance on these councils, did everything they could to keep Sinn Féin members off council committees, subcommittees and outside bodies.
As with Lisburn Council, which met on Wednesday 18 May, the pattern clearly was to engage in what Sinn Féin's Anita Cavlan, newly elected to Ballymoney council, described as "playground politics".
And when Billy Leonard, the party's first elected representative on Coleraine Council, accused the DUP of practising "a programme of exclusion", he was heckled by a DUP councillor, shouting "it was only the Shinners" who were snubbed.
"This was a night of gutter local politics. The incoming DUP mayor spoke of a 'forward looking borough' yet his party, by their actions, admitted they can't move forward," said Leonard. "They were excluding Sinn Féin and, they were prepared to ignore the group of people who voted for Sinn Féin candidates right across the Borough."
Clearly, gerrymandering is not a dying art in the corridors of DUP-dominated councils.
Using their majority, the DUP called for votes, in some cases paper or secret ballots, to elect members to committees and used these elections to exclude Sinn Féin.
Daithí McKay, newly elected to Ballymoney, and Monica Digney in Ballymena, were proposed for committees of interest to their electoral areas. In the case of McKay it was the Rasharkin Community Centre Committee, yet the DUP backed councillors from Cloughmills, Dunloy and Finvoy to exclude McKay, who lives in Rasharkin.
On Ballymena Council the members were prepared to accept that 12 members be nominated to a committee that normally comprises eleven councillors rather than put it to a vote.
However, when the SDLP's Declan O'Loan proposed Monica Digney for membership of the grants sub-committee of the powerful Finance Committee, the DUP immediately pointed out that the committee was oversubscribed and that a vote was needed.
When the obvious was pointed out: that committees with extra members had been ratified in the course of the night's business, the Paisley party reverted to type.
Using bluster and their holier than thou self-righteousness, they passed a motion calling for a vote to be taken to elect the stipulated number of councillors for each committee. And if anyone thought this ploy was anything other than a means to exclude Sinn Féin, the acid test arrived after, as Digney was nominated for one of the three places on the Portglenone Residents and Homeowners Association.
As four names were in the hat, a vote was called for. Needless to say, Digney lost.
Speaking to An Phoblacht afterwards, Digney made it clear that she would represent the people who elected her, no matter what the DUP might do. "I am here to ensure equality for the nationalist people of this borough and I will not allow the DUP to discriminate against either my party or our electorate."
Of the other councils to sit on Monday, Derry City Council met and elected its second Sinn Féin mayor in succession.
Waterside Councillor Lynn Fleming was elected by 22 votes to six, with Ulster Unionist Mary Hamilton elected to serve as deputy mayor.
The voice raised highest in protest at Fleming's election was that of Gregory Campbell of the DUP.
"There are good mayors, there are bad mayors and there are Sinn Féin mayors," said Campbell, who went on to criticise the SDLP for backing the Sinn Féin nominee, saying that he had hoped they (the SDLP) would have reached out the hand of friendship to unionists.
Given his own party's concept of generosity and reaching out, Campbell's protests were hard to stomach.
Other councils
Across the North's other councils, Sinn Féin's Pat McGinn was installed as mayor of Newry and Mourne, with the SDLP's Michael Carr as his deputy.
Former POW Eamon McConvey made history in Down District when he became the first Sinn Féin councillor to become vice chair of the council, despite attempts by the DUP to block his election. Last week, both nationalist parties agreed to share power in Down District.
Longstanding Sinn Féin Councillor Francie Molloy was elected mayor of Dungannon Council, with Ulster Unionist Norman Badger as his deputy, while the SDLP's John Campbell and the UUP's William Irwin, respectively, were installed as mayor and deputy mayor of Armagh Council.
Meanwhile, another Sinn Féin first saw Dessie Ward take his seat on Banbridge Council, the first time the party has been represented on the unionist dominated elected body. Ward told An Phoblacht he was "delighted that Sinn Féin has made the breakthrough in Banbridge", and promised to work for all those who elected him.
The DUP has already told reporters that they will not work with Sinn Féin, to which Ward responded: "My election shows that Sinn Féin is growing and our party can win seats and gain votes in any constituency throughout the North. That is the reality and the DUP will just have to get used to the fact that Sinn Féin is here and is not going away."
In Magherafelt, Seán Kerr has dismissed SDLP claims that Sinn Féin discriminated against that party's two councillors in the allocation of seats at the first meeting of the council on Tuesday.
Kerr explained that the seats allocated to all parties on the council reflected their numerical strength. "The SDLP complained that Sinn Féin took the lion's share of positions on committees and outside bodies and accused us of implementing d'Hondt unfairly," said Kerr. "However, Sinn Féin was, as the largest party, entitled to 50% of places, the DUP 25% and the UUP and SDLP 12% each.
"In the end we got 30 seats but had we used the SDLP's model for distributing the seats we would have been allocated 31 seats. It rankles with the SDLP that from a once dominant position on Magherafelt Council, they now have two seats to Sinn Féin's eight and don't have the influence they once had."
Sinn Féin's Kerr was installed as chair of the council, with the DUP's Paul McClean selected as vice chair.
It was double tops for Sinn Féin on Strabane Council, as Councillor Brian McMahon was installed as chair, with longstanding Castlederg Councillor Charlie McHugh elected as vice chair.
Under the d'Hondt system, which the Sinn Féin grouping introduced, both the SDLP and the UUP had the opportunity to serve as vice-chair, but opted to take up the post in different years during the council's four-year term.