19 May 2005 Edition
Seanad first as Mary Lou calls for Northern representation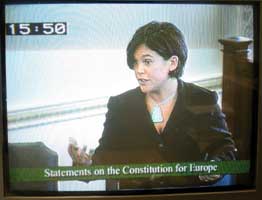 Sinn Féin Dublin MEP Mary Lou McDonald made a small bit of history on Wednesday when she became the first member of the party to address a full sitting of the Seanad. Mary Lou was there, along with the other 26 County MEPs, at the invitation of the Seanad for a discussion on the EU Constitution.
From the very beginning of the debate, it was very obvious which party was responsible for setting the agenda. Dick Roche, the Minister who formerly had responsibility for the area and was centrally involved in the process of drafting the Constitution managed to mention Sinn Féin and Mary Lou on four different occasions in his opening contribution. And almost every other speaker afterwards referred to Sinn Féin's position in the debate.
Mary Lou used the opportunity to not only outline Sinn Féin's opposition to the EU Constitution but also to raise the issue of Northern Representation in the Oireachtas. She said: "It was unfortunate that all 16 MEPs from Ireland were not invited to participate in the debate," as she pointed out it affected everybody living on the island and would be subject to referenda North and South. Unfortunately, Minister Brian Lenihan, from Fianna Fáil, when closing the debate, dismissed that notion despite the fact that an All-Party Oireachtas Committee on the Constitution had already recommended that it should in fact take place.