19 May 2005 Edition
Soccer fans urged to support Ireland and Palestine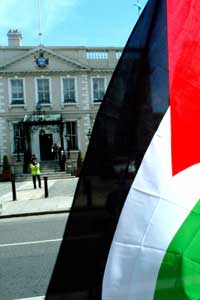 The 26-County soccer team play Israel in the second leg of the World Cup Qualifiers in Lansdowne Road on Saturday 4 June.
Palestinian solidarity campaigners want to use this important sporting occasion to bring attention to the plight of the Palestinian population who, for the past 38 years, have endured a brutal military occupation that includes curfews, closures, checkpoints and deliberate destruction of homes, civilian infrastructure and farmland — in effect, ethnic cleansing.
They are urging those attending the international to show solidarity by displaying the flag of Palestine, so that the protest will be seen worldwide by people watching the match. Flags will be distributed outside Lansdowne Road and fans are encouraged to bring their own flags and banners and display them during the match.
The Israeli Government counters charges of racism and ill-treatment of Palestinians by pointing to the inclusion of two Arab-Israeli players in the Israeli team. In reality, these team members have been subjected to vile racist taunting at both Israeli league and international matches by sections of Israeli football fans. "No Arabs, no terrorism" is one such chant regularly heard at games.
Whatever about the abuse meted out to Israeli players of Palestinian descent, the situation faced by the Palestinian team is a lot more serious. Severe travel restrictions have hampered the team's attempt to qualify for the World Cup. Israel prevented five players from travelling to the World Cup qualifier against Uzbekistan. Team members are regularly detained at checkpoints and prevented from travelling to and from practice and games.
The Israeli Government's commitment to 'fair play' in sport was witnessed most recently in Rafah refugee camp in Gaza. On 9 April a group of boys were playing football in an open area when the ball was kicked towards the border fence. When the kids ran after it, Israeli soldiers opened fire at them, killing two, aged 14 and 15. It is conceivable that by kick off on 4 June, other such atrocities will have occurred.
Campaigners argue that that politics and sport are often inseparable. The families and friends of the kids in Rafah and across Palestine might tend to agree.
There are examples in history where sporting events have been used by callous governments to influence their political standing abroad. The international rugby tour by the South African Springboks was intended to bolster the image of Apartheid abroad. The economic and sporting boycott of South Africa in the 1980s had a huge effect in raising public awareness and helped to bring down Apartheid.