7 April 2005 Edition
Two days in April - Remembering the Past
BY SHANE Mac THOMÁIS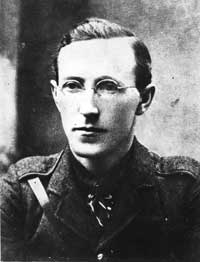 On 10 April 1923, 82 years ago, Liam Lynch was shot by Pro-Treaty forces.
General Liam Lynch, Chief of Staff, IRA, was born in Barnagurraha, County Limerick, in 1893. Lynch had commanded the Cork No 2 Brigade of the IRA during the ferocious days of the Tan War. He would eventually rise to command the 1st Southern Division, IRA.
When the Treaty with England was signed in December 1921, like many other IRA men, Lynch refused to abide by its term.
On that April morning in 1923, Lynch and a small number of his comrades were sitting down to a cup of tea when word came that a column of 'Staters' was coming across the Knockmealdown Mountains, cutting off their only retreat from another column of the enemy they knew to be in the valley below.
Carrying important papers that they wished to keep safe at all costs, Lynch and six comrades began a retreat up the mountain, hoping to avoid the trap. Soon they ran into the pro-Treaty forces on the mountainside, and exchanged fire. Lynch and his party were only armed with pistols and at a great disadvantage. Their only hope for escape was over an open expanse of mountain, where they would be exposed to what they knew would be a withering fire.
Having little choice, they moved up the mountain, bullets whistling all around them. Finally, inevitably, a bullet struck Liam. After surviving so many fights for Irish freedom, luck had finally run out for Liam Lynch.
He cried "My God, I'm hit, lads", as he slumped to the ground. As his comrades gathered around him they saw that he was badly wounded. Lynch's comrades tried to carry him with them up the mountain but it was impossible. He finally ordered them to leave him. "Perhaps they'll bandage me when they come up," he said.
Knowing that the papers they carried had to be saved, and that they could never make it up the mountain carrying him, his comrades reluctantly obeyed his order and left him behind. When the Staters reached him later and asked who he was, he replied: "I'm Liam Lynch, get me a priest and a doctor, I'm dying." Lynch lived to reach the hospital in Clonmel but he died there at 8pm that night.
On 9 April 1981, 24 years ago, republican POW and Hunger Striker Bobby Sands was elected to Westminster as the MP for Fermanagh/South Tyrone.
On 30 March, Bobby was nominated as candidate for the Fermanagh/South Tyrone by-election, caused by the sudden death of Frank Maguire, an independent MP who supported the prisoners' cause.
The next morning, day 31 of his Hunger Strike, he was visited by Owen Carron, who acted as his election agent. Owen told of that first visit: "Instead of meeting that young man of the poster with long hair and a fresh face, even at that time when Bobby wasn't too bad, he was radically changed. He was very thin and bony and his hair was cut short."
Bobby won over 52% of the vote in the by-election compared to 49% for the candidate of the Official Unionist party, Harry West.
Bobby Sands' winning margin was 1,400. Owen Carron, said:
"The nationalist people have voted against unionism and against the H-Blocks. It is time Britain got out of Ireland and put an end to the torture of this country."
Bobby had no illusions with regard to his election victory. His reaction was not one of over-optimism. After the result was announced, Owen visited Bobby.
"He had already heard the result on the radio. He was in good form alright but he always used to keep saying, 'In my position you can't afford to be optimistic'. In other words, he didn't take it that because he'd won an election that his life would be saved. He thought that the Brits would need their pound of flesh. I think he was always working on the premise that he would have to die."
At 1.17am on Tuesday, 5 May, on the 66th day on hunger strike, Bobby Sands MP, died in the prison hospital at Long Kesh.