7 April 2005 Edition
Sinn Féin stands with ethnic minority communities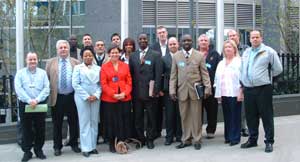 Sinn Féin National Chairperson and MEP for Dublin, Mary Lou McDonald, last Thursday hosted a visit by ethnic minority community activists from Ireland at the European Parliament in Brussels. McDonald was also joined by a number of Sinn Féin elected representatives from throughout the country.
An Phoblacht tagged along too for what was a very positive first step in introducing these community-based groups to Sinn Féin in Europe and in informing Sinn Féin's European team and councillors of the issues that most affect ethnic minorities in Ireland
There were representatives from Travellers' Action, the Centre for Care of Survivors of Torture, the Association of Refugees and Asylum Seekers in Ireland, African women's group Akina Dada wa Africa, Africa Solidarity Centre and Residents against Racism. Sinn Féin Upper Bann MLA John O'Dowd and Dublin Councillors Killian Forde, Larry O'Toole and Cathal King also travelled.
Tina Akinola, a representative of Akina Dada wa Africa, explained to me the vital intercultural work her organisation undertakes in preparing African women for life in Ireland and training the authorities on how to deal with African womwn. For example, she said, young people from Africa are taught not to look an older or authority figure directly in the eyes, as this is seen as a sign of disrespect. Translated to Ireland, and dealings with social welfare authorities, Gardaí etc, this failure to make eye contact can be mistakenly perceived as appearing guilty and uncomfortable. Her group, she said, recently had a very successful training day involving 30 Gardaí, but she complained, like the other groups working with refugee and asylum seekers, of a huge problem for ethnic community based groups in securing any sort of meaningful funding from government.
Mercy Peters from the Association of Refugees and Asylum Seekers in Ireland took up this point. She said that refugee input is also minimised when it comes to securing monies from the European Refugee Fund. Groups such as the Irish Refugee Council have no such problems but, while acknowledging that body's work, Mercy pointed out that refugee communities need their own voice.
She spoke of trained professionals, such as doctors, not being able to work in Ireland because they are waiting for a decision on thir case or, afterwards, because the government refuses to accept their qualifications. She pointed out that most of the European funding goes not to advocacy or community groups like hers, but to providing reception and repatriation facilities. "There is nothing actually for refugees," she pointed out.
She spoke of the need for funding to help integrate those refugees who are granted legal status in Ireland. At the moment, as soon as status is granted, state supports are withdrawn and the process of helping these people find their way in society is left to refugee groups.
Mercy also spoke of the bureaucratic nightmare, for example, to secure passports or get on social housing lists, faced by those who have been given status by the government.
Lubomir Zubak of Residents Against Racism, a Romany born in the Czech Republic, now a member of Sinn Féin, spoke of his experience of persecution over 40 years. "No child in this world is born with racism," he said, advocating that the history of racism be taught in schools alongside a programme of awareness of different cultures.
Responding, Mary Lou spoke of the need to take on the establishment political class in Ireland, who want to preserve the status quo, where minority rights are ignored and Travellers are seen as a 'problem'. "We will challenge at every opportunity the notion of Fortress Europe and detention centres," she pledged. She also expressed concern about the relationship between institutional resistance and how funds are allocated. "We in Ireland have a history of failure in terms of diversity," she said. "There is a huge piece of work ahead to change this.
"Sinn Féin stands resolutely with ethnic minority communities in the face of attacks against them, discrimination and deportation.
"Tackling racism has been a real priority for my party. We brought forward an anti-racist charter in Councils where we are represented, we opposed the racist citizenship referendum introduced by the Irish Government and are campaigning against the policy of forced deportation. We have been campaigning for a progressive, human rights based, anti-racist immigration policy.
"Sinn Féin is committed to tackling all forms of racism and building an inclusive and multicultural Ireland."
The delegation also attended a meeting with representatives of the European Women's Lobby, the European Network Against Racism, and the European Committee on Refugees and Exiles.
All agreed that it had been a most productive and informative day, one in which contacts were made that will be followed up on in the months and years ahead so that the racism and other human rights issues faced by our new ethnic communities and Travellers can be effectively challenged.