31 March 2005 Edition
Mary MacSwiney, revolutionary - Remembering the Past
BY SHANE Mac THOMÁIS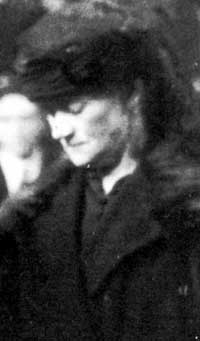 On 27 March 1872, 133 years ago, Mary MacSwiney, revolutionary, was born in Surrey, England, of an Irish father and an English mother. Mary grew up in Cork and was educated as a teacher, like her mother and father. At 20, Mary obtained a loan from a student's aid society and was admitted to a teacher-training programme normally reserved for men at Cambridge University in England. She taught in London for some time and then returned to Cork on the death of her mother to look after the younger members of the family and found employment there as a teacher.
The first republican speech Mary attended was the Centenary Celebration in Waterford in 1898. There, she heard John Redmond give a fiery rebel speech. Much to her disappointment, however, she read a speech given by Redmond in Yorkshire, England, a few days later, where he assured England that the Ireland would not even dream of asking for control of excise, customs or taxation in Ireland. She was appalled by the glaring contrast of the two speeches, and fiercely set out as an activist for Home Rule. She refused to join Arthur Griffith's Sinn Féin because, as she said, I will never accept the King of England as the King of Ireland." She did join Sinn Féin in 1917, however, after its views became more republican.
Influenced by her revolutionary brother, Terence, she joined the Gaelic League and Inghinidhe na hÉireann, the nationalist women's organisation that would form the basis of Cumann na mBan. She taught in Cork, where she became a founder member of the Munster Women's Franchise League.
She was a member of the Executive of Cumann na mBan when it was formed in March 1914, to advance the cause of liberty through armed resistance and was arrested in her classroom during the 1916 Easter Rising. The Bishop of Cork effected an early release for women prisoners: Mary, however, was dismissed from her teaching post. Borrowing £200, she established her own school with the help of her sister. The school, St Ita's, was located in her home and modelled on the famous St Enda's boys' school, founded by Patrick Pearse in Dublin.
As an active Sinn Féin member, Mary campaigned for her brother Terence when he was elected to the first Dáil Éireann in 1918. In 1920, Mary supported his fatal hunger strike in Brixton Prison, England. She then visited the US to give evidence before the American Commission on Conditions in Ireland. For nine months, she and Terence's widow, Muriel, toured America lecturing and giving interviews, providing invaluable publicity to the republican cause. In the General Elections of 1921, as President of Cumann na mBan, Mary MacSwiney was one of the Sinn Féin candidates swept to victory in a wave of support for the party.
She opposed the Anglo-Irish Treaty, calling it "the grossest act of betrayal that Ireland ever endured". Her speeches were among the most powerful, calling on the Dáil not to commit "the one unforgivable crime that has ever been committed by the representatives of the people of Ireland" by accepting a treaty which required an oath of allegiance to the British monarchy.
She was Vice President of Cumann na mBan when that organisation voted 419 to 63 against supporting the 1921 Anglo-Irish Treaty After the Treaty was ratified, Cumann na mBan, following a resolution by Mary, was the first national organisation to reject the formation of the Free State.
She was elected again to the third Dáil which, owing to the outbreak of the Civil War, was never to sit. In July 1922, she was imprisoned by the Free State authorities, went on a hunger strike, and was released. After the ceasefire, she retained her seat in the General Election of 1923 but, in common with the other Republican deputies, refused to take the Oath of Allegiance required under the constitution of the Free State.
When Éamon de Valera compromised in 1926 in order to enter the Dáil, MacSwiney, much like her brother before her, held fast to her Republican ideals, refusing to take the required oath to the Crown. In 1933, she, together with Albinia Broderick, founded Mná Poblachta in opposition to Cumann na mBan, which MacSwiney believed was moving too far to the left. In 1934, she was a member of the short lived Republican Congress.
Mary MacSwiney died at her home in Cork on March 8, 1942. Her stance, both before and after the Treaty, may be summed up by her statement: "A rebel is one who opposes lawfully constituted authority and that I have never done"
Invisible Women
The singer sings a rebel song
and everybody sings along.
Just one thing I'll never understand:
Every damn rebel seems to be a man.
For he sings of the Bold Fenian Men
And the Boys of the Old Brigade.
What about the women who stood there too
"When history was made"?
Ireland, Mother Ireland, with your freedom loving sons,
Did your daughters run and hide at the sound of guns?
Or did they have some part in the fight
And why does everybody try to keep them out of sight?
For they sing of the Men of the West
And the Boys of Wexford too.
Were there no women living round those parts;
Tell me, what did they do?
by Brian Moore