31 March 2005 Edition
Looking to the future while remembering the past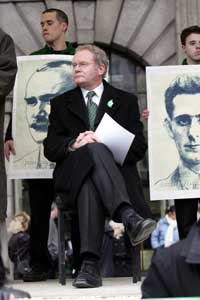 Republican comradeship is always at its strongest when the struggle is under attack, and the massive show of support at the various marches, commemorations and other Easter events that took place last weekend bore testimony to that.
Celebrating Sinn Féin's 100th anniversary, as well as the 89th anniversary of the 1916 Rising, republicans made Easter 2005 colourful, enjoyable and memorable.
Thousands of party members and supporters came out in force across the 32 Counties to express their disgust at the recent onslaught on republicanism and the major theme of the weekend was one of 'no criminalisation'.
At Dublin's main parade, the party's Chief Negotiator, Martin McGuinness, spoke of the heroes of 1916 and of how our enemies would always "grasp every opportunity to undermine and discredit our struggle.
"We must always be vigilant and cognisant of the fact that the stronger we get politically, the more we threaten the cosy cartel that has abused its grip on the levers of power in this state since partition," he said.
Speaking in Derry, and dealing with the killing of Robert McCartney, Sinn Féin President Gerry Adams said; "What annoys me the most is not the criticism from the two governments, our political opponents, or those sections of the media who are clearly delighted to have a go at us. We are used to that and we can take it.
"What annoys me the most is that a small group of individuals are not prepared to face up to their responsibilities. Instead, these cowardly individuals will allow an avalanche of propaganda aimed at criminalising republicanism."
Challenges ahead
Both men also called on republicans to recognise the challenges that lie ahead.
"As Irish republicans we have a responsibility to look at where we want to be — a free and independent Ireland — and set about the task of getting there," Adams said. "Guided by our peace strategy this will inevitably mean more hard choices, more hard decisions for Irish republicans as we push ahead with our political project, and as we seek to achieve a united Ireland."
McGuinness said each century of struggle had seen different strategies and tactics. "Republicans required courage to survive, resourcefulness to find new ways forward and determination to persist with their course of action," he said. "We need all of those qualities in abundance if we are to continue to advance our peace project for Irish independence."
But they also pointed to the responsibilities that must be faced by the Dublin Government.
"All too often at critical junctures in the Peace Process they have allowed themselves to be treated as junior partners and have failed to act with the same determination in representing nationalists as the British Government do when representing unionist interests," McGuinness told the Dublin crowd.
"It is time for the governments to be honest about all of this. It is time that we deal with all of the outstanding issues — armed groups, demilitarisation, equality, human rights and the difficult issue of policing."
Adams said the party leadership would be meeting with the Taoiseach after Easter to discuss all of the issues.
"Be assured that Sinn Féin will not be kow-towing to the agenda being set by the Irish Government," he said. "We will not be lectured to by anyone. We will treat everyone with respect. We expect to be treated in the same way. We do not let unionism walk over us. We do not let the British Government walk over us. We will not let the Irish Government walk over us."