23 March 2005 Edition
1980s football challenge to remember Gerard and Martin Harte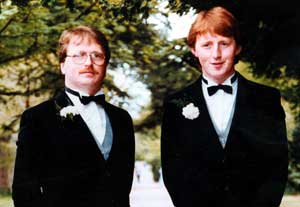 On Easter Saturday, GAA football teams of a 1980s vintage from Loughmacrory in County Tyrone will dust off their boots and take part in a challenge match in memory of Loughmacrory footballers Gerard and Martin Harte.
The brothers, IRA Volunteers, were killed in action by the SAS at Drumnakilly, along with their comrade Brian Mullin, on Tuesday 30 August — a date etched in the minds of local republicans and those from further afield.
Gerard was a highly respected member of his local community and occupied many key roles, both as manager and player, with Cumann Naomh Treasa. One of his many achievements was a Tyrone junior championship medal, which he won while playing corner forward with the Loughmacrory side against Brockagh in 1980.
Sinn Féin Councillor Mickey McAnespie managed this team. Mickey is the uncle of Aidan McAnespie, another young GAA member who was cut down in the prime of his life and in his own country by occupying British forces. Gerard also formulated and spearheaded a successful youth programme and managed many underage teams to success during the 1980s.
Martin was also married, with a young son, Declan. A joiner by trade, he was, like his brother Gerard, a skilled Gaelic footballer. Martin captained Saint Teresa's team at the time of his death and was the holder of the club's player of the year award — a title he inherited from the previous year's holder, his brother Gerard. Holding the position of centre halfback, Martin was arguably one of the best footballers in the county and no doubt, had his footballing career not been prematurely cut short, he would have represented Tyrone at Senior County football level.
On the field, one of Martin's proudest moments was when he captained the Under 16 Loughmacrory side against Owenkillew to win the Grade two County final on 17 August 1982. On that day, Martin played a stormer at midfield, falling back to help out the defence when needed, while his partner, Paul Murphy, played an attacking role.
Gerard was the manager of that 1982 side and it is fitting that members of this team and the 1980 Junior championship side have come together in a challenge match to mark the occasion and the memory of two of the finest clubmen in Tyrone.
The throw in is at 3pm in Pairc an Locha and will be followed by presentations and refreshments in the Community Centre. The MP for West Tyrone, Pat Doherty, will be in attendance.
Speaking ahead of the event, Doherty said that the shooting at Drumnakilly was a major blow to the people of Ireland and clearly demonstrated the ruthlessness of Britain in dealing with her political opponents.
This event is one of many organised throughout the district to mark the 100th anniversary of the foundation of Sinn Féin.
On Easter Sunday, Republicans in Loughmacrory will hold their annual Easter commemoration at the graveside of Gerard and Martin. This is traditionally one of the largest local commemorations in the county and will be addressed this year by Ardoyne republican, Councillor Martin Meehan. The proceedings get under way at 12.30pm in the graveyard adjoining St Mary's Chapel.