23 March 2005 Edition
BoI sheds 2,100 jobs
BY ROBBIE SMYTH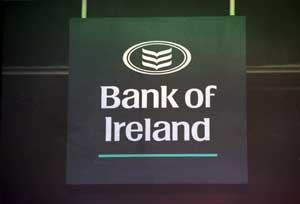 "Corporate greed at its most vulgar" This was how Irish Bank Officials Association (IBOA) General Secretary Larry Broderick described the decision by Bank of Ireland (BoI) to shed 2,100 jobs over the next two years.
The bank, one of the wealthiest companies in Ireland, with profits last year of nearly €1.3 billion has sought to justify the cuts as a cost containment exercise. But in the same week that another financial institution, Bank of Scotland, paid €120 million to buy the ESB's chain of 54 retail stores to be rebranded as the Scottish bank's Irish branch network, it seems that BoI could be out of step with the Irish banking market.
Cuts have become part and parcel of the Irish banking business for the top banks. Both AIB and BoI have in recent years closed branches across Ireland, particularly in rural Ireland, with BoI cutting already 1,000 staff from its rural network. BoI currently employs 12,000 workers here and 6,000 in Britain.
What hasn't been cut is charges for customers! Irish banks are among the most profitable in Europe and impose higher charges than their European counterparts. The Bank of Scotland expansion into Ireland is set to exploit this anomaly. When they entered the Irish Mortgage market in 1999 with a call centre based operation, they did so with interest rates 1.5% lower than their competitors. Bank of Scotland credit cards in Britain are also cheaper than the interest rates competitors offer. Their entry into retail banking in Ireland will be a challenge to the ongoing customer exploitation perpetrated by the established banking community.
The IBOA have reacted strongly to the jobs cuts. The Association's BoI Executive Committee met yesterday as the bank management were making a stock market statement on the cutbacks and on their already growing profits in the first months of 2005. BoI are already looking at revenue figures that could be growing by 10% by the end of year.
In a statement after the meeting, Larry Broderick said: "Staff are extremely angry and furious at the Bank's proposals to seek over 2,100 redundancies at a time when the bank is recording historic profit levels of in excess of €1.3 billion."
Broderick believes that, "at a time of strong economic growth in Ireland and record profitability in the Bank, it is a dreadful reflection on the board of Bank of Ireland that they are devoid of any strategic vision other than a slash and burn approach to the largest domestic bank in the Republic of Ireland".
Broderick also highlighted the fact that BoI's plan was "in sharp contrast with the approach taken by all other domestic and international competitors, who are focused on income growth, increased employment and enhanced customer service".
Bank of Ireland's view is different. Yesterday's trading statement said that their "immediate focus" is on "actions that will reduce our costs while also beginning to build a more consolidated operating model".
Presently, BoI have 22 call centres and they want to consolidate this to four. In recent years, they outsourced IT services to Hewlett Packard and this involved 500 workers transferring out of the company. This could be happening again, with more workers outsourced.
What both the Bank of Scotland and BoI decisions show is the huge profits to be made from banking in Ireland today, while in the case of both companies, it is questionable as to where the profits will be invested. There is no compunction on either company or any bank in Ireland to invest profits made here back into the Irish economy.
Once again, the case has been made for a state-owned bank that wouldn't overcharge customers, that wouldn't outsource jobs but that would invest profits made from Irish customers back into the Irish economy.