17 February 2005 Edition
Murphy aims to take Newry and Armagh seat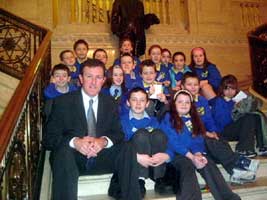 Sinn Féin Newry/Armagh MLA Conor Murphy was unanimously re-selected as the party's Westminster candidate for the Newry/Armagh constituency at a recent packed party convention in Belleeks, County Armagh.
The convention, chaired by South Down MLA and Westminster Candidate Caitríona Ruane, heard Mr Murphy, who has played a key role with the Sinn Féin negotiating team, being proposed by veteran Camloch republican Terry O'Hare who spoke of his pride in having the opportunity to nominate a republican of the calibre of Conor Murphy to represent Sinn Féin in such a key constituency. "
Murphy's nomination was seconded by Armagh City and District local election Sinn Féin candidate Siobhán Vallely, who is contesting the Cusher ward.
In his acceptance speech, Murphy said he was honoured to be carrying the flag for Sinn Féin in Newry and Armagh and he paid tribute to the dedication and hard work throughout the constituency of the party organisation. "Our objective in these forthcoming elections is to consolidate the four Westminster seats that we secured in 2001 and to win additional seats, which includes Newry and Armagh," he said. "We are not building political strength for the sake of it. We are building political strength throughout this island as part of a strategy to bring about Irish re-unification and true equality for all the citizens on the island."
He pointed out that the full frontal onslaught now being rolled out against Sinn Féin is no coincidence. "What our political and securocrats opponents have not learned, despite all lessons from history, is that republicans thrive on adversity. Our struggle will not be undermined or criminalised by them. That has been tried in the past, it is now happening in the present and no doubt we will also face much of the same in the weeks and months ahead as we enter into these crucial elections.
"All people, all children all communities will have that future that has been denied to them, a future that is not granted by privilege or bought as a commodity by those who can afford it. Things can be better and we in Sinn Féin will make it better. Sinn Féin, as it celebrates its one hundredth year of existence, is continuing to change the course of Irish history and together we in Newry and Armagh will create new history when we win this seat."