10 February 2005 Edition
If Irish Government opposes sanctions then it must prevent them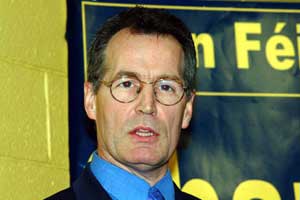 Speaking as the Dublin Government met on Tuesday to discuss the latest report from the Independent Monitoring Commission (IMC), Sinn Féin Assembly member for North Belfast Gerry Kelly said that "if the Irish Government opposes sanctions then it will stop them happening".
"I have read with interest the Taoiseach's remarks on the issue of the IMC and sanctions against Sinn Féin," said Kelly. "In Sinn Féin's view it is not good enough for the Irish Government to say it opposes sanctions. It created the IMC, along with the British, as a sop to unionists. The sole purpose of the IMC is as a vehicle to be used to sanction and exclude Sinn Féin from the process.
"If the Irish Government is serious about what it is saying then, as co-equal partners in this process, it has to challenge the British Government on this issue. If the Irish Government is really serious about sanctions, then it must block their introduction.
"Confrontation, exclusion, and criminalising an entire section of people are not the way forward. They haven't worked in the past and they will not work now.
"If the two governments want to see progress, then they need to pull off this confrontational approach. If they are determined to subvert the Sinn Féin mandate, then we will robustly and assertively defend ourselves, our mandate and the process."