10 February 2005 Edition
Céad Bliain exhibition launched in Belfast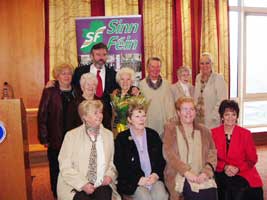 Sinn Féin's Céad Bliain exhibition was officially launched in Belfast's Europa Hotel, celebrating 100 years of the party. The collection of documents, posters and photography will go on display throughout Belfast before travelling around the country. Already, events are being planned in every county in Ireland.
One of the most interesting exhibits in the collection are three letters which were uncovered recently, by chance, by workers renovating Sinn Féin's Dublin headquarters at Parnell Square.
The letters, correspondence between Arthur Griffiths, the party's founder, and Cathal Brugha, deal with mundane issues such as patents for street lamps.
"But", says Sinn Féin's Alex Maskey, "the letters, dating back to February 1918, highlight the continuity of Sinn Féin through the years and how the party, even then, was dealing with the nitty gritty issues as well as national politics".
Speaking at the launch, Sinn Féin President Gerry Adams said he was delighted that "the exhibition will be travelling the length and breadth of Ireland, entertaining, encouraging debate and dialogue and analysis about the history of Irish republicanism."
The exhibition itself is a portrayal of the political and personal commitment of generations of republican activists and provides a great sense of the meaning of Sinn Féin.
Attending the morning's events were key women figures within the republican movement, including Bridget Hannon, who was presented with flowers by Adams in recognition of her contribution to the struggle.
"From the beginning women were centrally involved in this organisation," said Adams. "But too often women have been workers in the background and often the invisible foundation of this party and this struggle," said Adams. He paid a special tribute to Margaret McKenna, a former Sinn Féin councillor on Magherafelt Council, who died suddenly on Monday February 7.
McKenna, who served two terms on Magherafelt council, stood down before the last election for personal reasons, but had been selected by the party to stand again in the upcoming elections in May.
• Anyone seeking further information on any Céad Bliain events, on the history of Sinn Féin or any of the publications and merchandise produced for Céad Bliain contact Sinn Féin Céad Bliain, 44 Parnell Square, Dublin, Tel: 01-8726100.