10 February 2005 Edition
Frank Stagg dies on hunger strike - Remembering the Past
BY SHANE Mac THOMÁIS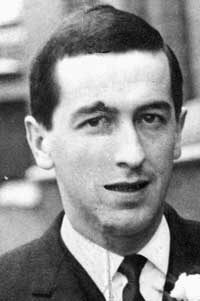 On 12 February 1976, 29 years ago, Frank Stagg died on hunger strike in Wakefield jail in England.
Frank Stagg, of Hollymount, County Mayo, came from a long line of Irish republicans. His father had fought in both the Tan War and the Civil War on the republican side. By the 1970s, Frank, who like so many from the West of Ireland had emigrated to England, worked as a bus conductor in North London. He joined Sinn Féin in Luton in 1972 and shortly afterwards joined the IRA.
In April 1973, he was arrested in Coventry and charged under the 19th Century Conspiracy Laws, which were used to convict all members of an IRA unit of the same crime, regardless of degree of involvement — so that a driver could be charged with a shooting or an unarmed man with possession of a gun carried by another man.
Frank Stagg and six others were convicted of conspiracy to commit arson. He was given a ten-year sentence.
Frank was taken first to Albany Prison on the Isle of Wight, where, demanding that he was a political prisoner, he refused prison work and was frequently punished with solitary confinement. In March 1974, having been moved to Parkhurst Prison, he and fellow Mayo man Michael Gaughan joined a hunger strike begun by the Price sisters in Brixton and their comrades Hugh Feeney and Gerry Kelly, demanding repatriation to Ireland.
All were force fed by the authorities, despite the fact that such inhumane methods were being condemned by Amnesty International and the Court of Human Rights. The Price sisters, Kelly, and Feeney succeeded in achieving repatriation to the Six Counties but Stagg and Gaughan were refused.
Frank suffered force feeding for 70 days, a barbarous procedure that took the life of Michael Gaughan. Following Michael Gaughan's death, negotiations were begun and the hunger strike was called off. But the talks were a trick to halt the strike and prevent further highly publicised deaths.
Instead of meeting the demands, the authorities moved Frank to a solitary confinement punishment cell, where he remained under 23-hour lockdown. He was allowed no furniture, radio, newspapers or cigarettes, and prevented from sleeping by a bright light burning in his cell day and night.
In Wakefield Prison, on 14 December 1975, Frank Stagg began his fourth and final hunger strike, with the demand again for repatriation. Frank battled against starvation for 62 days before he died on 12 February 1976. He last request was "to be buried next to my republican colleagues and my comrade, Michael Gaughan".
Michael Gaughan had been buried in Ballina, County Mayo, with republican honours, which had embarrassed the then Fine Gael/Labour Government under Liam Cosgrave. Now they faced the prospect of another high-profile funeral of another Irishman who had died in an English prison while they had sat back and done nothing.
The plane carrying the coffin was diverted from Dublin, where Stagg's widow and friends were waiting, to Shannon, and the body was hijacked by 26-County security forces. It was taken by helicopter to the cemetery at Ballina and buried in a hastily arranged plot and covered over in concrete. A 24-hour guard was place to prevent the family and from exhuming the coffin. A Requiem Mass was allowed to the family, but they boycotted it in protest at not being allowed to have the funeral that Frank wanted.
The following Sunday, the Republican Movement held its own ceremony at the Republican Plot, despite a massive police presence. A volley was fired and following an oration by Joe Cahill, a solemn pledge was made that Frank's body would be moved to lie beside his comrades in accordance with his wishes.
Some six months later, when the guard had been removed, since the expense could not have been justified indefinitely, a party of IRA Volunteers tunnelled into the concrete under cover of darkness and buried him as he wished, next to Michael Gaughan.
The practice of hunger striking has deep roots in Irish culture. The ancient Irish under the Brehon Laws would use self-inflicted starvation as a means of discrediting someone who had done them wrong, as would unpaid poets or trades people, who would camp outside the home of an unjust patron and begin a hunger striking ritual until their wrongs were righted or their debts paid.
To fast on or against a person was called 'Troscad'; and to fast to achieve justice was called 'Senchus Mór'. If the striker died, the accused would suffer societal ostracism and would have to pay compensation to the dead person's family.
Since 1917, 22 republicans have been let die on hunger strike by British and Free State forces.
An Phoblacht Magazine
AN PHOBLACHT MAGAZINE:
Don't miss your chance to get the second edition of the 2019 magazine, published to coincide with Easter Week
This special edition which focuses on Irish Unity, features articles by Pearse Doherty, Dr Thomas Paul and Martina Anderson.
Pearse sets out the argument for an United Ireland Economy whilst Pat Sheehan makes the case for a universally free all-island health service.
Other articles include, 'Ceist teanga in Éirinn Aontaithe', 'Getting to a new Ireland' and 'Ireland 1918-22: The people's revolution'.