20 January 2005 Edition
Palestine represented at Bloody Sunday events in Derry - Time for Truth: From Bogside to Basra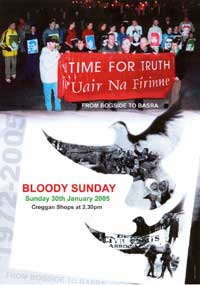 Each year, the annual Bloody Sunday commemoration programme of events seeks to breathe life into the inscription on the monument to the victims of that day: "Their epitaph is in the ongoing struggle for democracy."
So while remembering the 14 local people murdered on Bloody Sunday and their families' continuing struggle for truth and justice the organisers also consider the consequences this act of state terrorism continues to have on events right up to this day.
Had Lord Widgery in 1972 acknowledged the truth of what happened on Bloody Sunday, it may not of itself have fundamentally changed the nature of the British State or its role in Ireland. It would, however, have made it harder for that state to continue to sell the lie that its army was an impartial 'peacekeeping' force. In turn, this would have made it more difficult for its soldiers to continue to literally get away with murder here and for the same unwritten institutional policy to be now claiming the lives of uncounted victims in Iraq.
This year's programme of events starts on Monday 24 January, culminating in the annual march and rally on Sunday 30 January. It creates space for a local assessment of 'The Truth of Bloody Sunday' in the wake of Lord Saville's inquiry. And, while the families wait to see if he has the courage to tell that truth, those participating will reflect on the experience of British Army occupation and use it to better understand the plight of the peoples of the Middle East.
From Bogside to Basra will discuss the illegal occupation of Iraq through the lens of Fallujah and Bloody Sunday. An Fhírinne' will remember the many victims of state collusion, and this year's Memorial Lecture will be delivered by Geraldine Finucane, wife of assassinated solicitor Pat Finucane. Conflicts of Remembrance will explore the difficulty in finding ways to remember all the dead of a conflict when the truth of what it was is still disputed. At a Crossroads will compare and contrast the prospects of building a just and lasting peace in Ireland and in Palestine.
For the duration of the week's events, Free Derry Wall will be painted in the colours of the Palestinian flag as an act of solidarity.
More generally, these events create a space to come and reflect with others on the importance of democracy in Ireland and throughout the world and to stand shoulder to shoulder, in solidarity with the families of the victims of Bloody Sunday and victims of injustice everywhere.
Monday 24 January
• Free Derry Tours/Bloody Sunday Tour, Monday to Friday, For bookings contact Ruairí on 07793 285972.
• (EXHIBITION) Murder on a Sunday, AOH Hall, Foyle Street. Paintings by Charlie McLaughlin's paintings about Bloody Sunday
• (EXHIBITION) An Fhírinne Exhibition Launch, Pilot's Row, 7.30pm. The Mayor, Councillor Gearóid Ó hEára, will launch this photographic exhibition of over 200 victims of state collusion with loyalist paramilitaries. Exhibition runs until Saturday 29 January.
• (FILM) News from the Holy Land, Gasyard Centre, 8pm. A call for a change in the way the Palestine-Israeli conflict is reported.
Tuesday 25 January
• Museum of Free Derry Exhibition launch, Bloody Sunday Centre, Foyle Street, 7.30pm. Runs to Tuesday 1 February.
• (FILM) Death in Gaza, Gasyard Centre, 8pm. A poignant and unflinching look at the lives of three Palestinian children caught up in the cycle of violence, dramatically culminating in the director's own death at the hands of the Israeli Forces.
Wednesday 26 January
• (FILM) Bi Dam (With Blood), Gasyard Centre, 8.30pm. Showing the spirit crushing impact of the occupation on health care, Bi Dam gives insight into a crucial aspect of life in the cities, rural villages, and refugee camps of the West Bank and Gaza Strip.
• Bloody Sunday Memorial Quiz, Sean Dolan's GAA Club, Creggan, 9pm.
Thursday 27 January
• (PANEL DISCUSSION) From Bogside to Basra, Gasyard Centre, 7pm. A discussion on the US/British illegal occupation of Iraq through the lens of Fallujah and Derry's Bloody Sunday. Speakers: Eddy Cherry, a former British soldier, stationed in Derry, now a leading member of 'Ex Soldiers Against The War', Dr Abdul Al-Jibouri an Iraqi scientist living in Derry, and Paul O'Connor, Coordinator of The Pat Finucane Centre.
• (FILM) Yadon Ilaheyya (Divine Intervention) Gasyard Centre, 8.30pm. An engagingly offbeat Palestinian response to how Israeli checkpoints disrupt and frustrate the lives of ordinary individuals.
Friday 28 January
• Bloody Sunday Memorial Mass, St Mary's, Creggan, 7.30pm.
• (MEMORIAL LECTURE) Annual Bloody Sunday Lecture, Guildhall, 8.15pm. Delivered by Geraldine Finucane. Admission by donation.
Saturday 29 January
• (PANEL DISCUSSION) Conflicts of Remembrance, Pilots Row, 12pm - 2pm. Discussion and question and answer session where guest speakers will explore how and why we remember victims of conflict.
• (PANEL DISCUSSION) Bloody Sunday Update, Pilots Row, 2pm - 3.30pm. Speakers: John Kelly, Angela Hegarty and Niall O'Dochartaigh. The panel will present their perspectives on Bloody Sunday as people who have followed the Saville Inquiry, before the event is opened up for a Q & A with the audience. An updated edition of Niall O'Dochartaigh's book, From Civil Rights to Armalites' which includes a new chapter on Bloody Sunday, will be launched.
• (PANEL DISCUSSION) Holy Cross in Context: Communities in Conflict over Shared Space in North Belfast, Pilots Row 3.30pm - 5pm. Anne Cadwallader, author of, Holy Cross - The Untold Story; Tom Holland, republican community activist; and Louanne Martin, who interviewed the children.
• (FILM) Film Screenings, Pilots Row, 12pm - 5pm. Dangerous Liaisons (BBC Spotlight documentary on collusion); Lifting a Dark Cloud (PFC produced documentary on Kathleen Thompson) & Bloody Sunday: Massacre of the Innocents.
• (PANEL DISCUSSION) At A Crossroads: Palestine & Ireland, Road Maps & Road Blocks to Peace, Calgach Centre, 7.30pm. Dr Jamal Zahalka, a Palestinian MP who sits in the Israeli Knesset and has been centrally involved in the struggle for truth and justice around one of Israel's Bloody Sundays against the Palestinian people, when Israeli police shot dead 13 Palestinians dead in October 2000, and Mitchel McLaughlin MLA, Sinn Féin Chairperson, will discuss the Irish and Palestinian peace processes and state repression and violence.
• Traditional Music Night, Solas Arts Centre, Great James Street.
• Bloody Sunday Fundraiser, Gasyard Centre, 9pm - 1am. Live music and DJs
Sunday 30 January
• Memorial Service at the Bloody Sunday Monument, Rossville Street, 11.30am sharp.
• (MARCH & RALLY) Bloody Sunday March and Rally, Creggan shops, 2.30pm. Speakers from the Bloody Sunday Families, an Fhírinne, Sinn Féin and the SDLP. Guest International Speaker: Palestinian MP Dr Jamal Zahalka