20 January 2005 Edition
Ahern accusations "deeply damaging"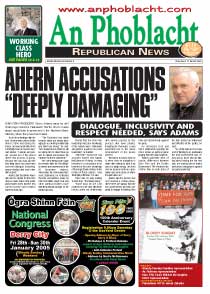 Sinn Féin President Gerry Adams says he will challenge remarks Taoiseach Bertie Ahern made about republican involvement in the Northern Bank robbery when they meet next week.
"In all of my dealings with the Irish Government before Bertie Ahern`s time and during his tenure, we have dealt with him in a forthright and an honest way," said Adams. "I wonder and ponder around all of this about where this process is going, because the only way and the only thing which has succeeded has been dialogue, inclusivity, people dealing with each other with respect."
Adams said that Bertie Ahern will need to explain to Sinn Féin why he made claims that senior party leaders knew that the IRA carried out the £26.5 million Northern Bank raid.
"The Taoiseach has made remarks which are deeply damaging to our working relationship and which are wrong," he said. "He's bound to know that we will be asking him to stand those up and to explain and produce the evidence for these comments."
The West Belfast MP made his remarks after the IRA officially denied any involvement in the 20 December robbery. Welcoming the IRA leadership's clear statement, he reiterated that the accusations made by Chief Constable Hugh Orde and other political leaders have inflicted profound damage on the political process.
Claims that the Sinn Féin leadership had prior knowledge of the robbery were "unfounded allegations against our party leadership", he insisted.
"What the Taoiseach has accused myself and Martin McGuinness of doing, is being involved in a conspiracy to be involved in the prior knowledge of the largest bank robbery in the history of these islands. I find that highly offensive," he said.
There was, he said, nothing to back it up. "It is totally wrong."
"Some days we are a bit muted in how we deal with these issues, given our relationship with various parties to this process who have played, including the Taoiseach, a very important role in the whole development of the peace process.
"But when it comes down to it, when such an allegation is made with nothing to back it up and it is totally wrong, we need and we deserve both an explanation and some sense of where this path takes us."
Adams said the process has now reached a critical phase, where there are signals from the two governments that they are going to engage in bashing Sinn Féin and discriminate against the party.
He dismissed DUP and SDLP statements rejecting the IRA`s denial as political game playing from the usual suspects.
Adams said there were, of course, differences between Sinn Féin and the Dublin Government. The electoral rise of Sinn Féin on both sides of the Irish border has influenced and affected all the parties, he said.
"So I think that all of us have a lot of thinking to do, particularly the Irish Government and, if I may say so, those who are talking about raising the bar and who are making these totally unfounded allegations against our party leadership."