25 November 2004 Edition
Offaly honours the Manchester Martyrs - BY JONATHAN O'MEARA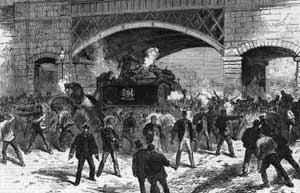 A large crowd braved the weather in Birr, County Offaly, last Sunday to commemorate the 137th anniversary of the Manchester Martyrs. On 23 November 1867, Michael O'Brien, William Philip Allen and Michael Larkin were publicly hanged at New Bailey Prison, Manchester.
The ceremonies started at the Catholic Church, where the colour party from Longford and the Ed O'Brien pipe band from Wexford led the march through the main street of the town.
After the march, Daithí Regan, chair of the local Michael Larkin SF Cumann, thanked everyone for coming out to commemorate the three patriots. He paid tribute to past members of the cumann for their hard work and dedication through the '70s and '80s. He asked the congregation to stand for a minute's silence to remember and honour the Manchester Martyrs as well as Volunteer Tom Dunne from Stradbally and Volunteer Liam O'Mahony from Portarlington, who died last week.
Guest speaker Aengus Ó Snodaigh TD congratulated everyone associated with the Michael Larkin Cumann. He said it was now time for the younger and the older generations to work together and stand for a different Ireland.
The crowd welcomed his final comment, when he reminded us that the only party in Ireland who will deliver Irish Unity is Sinn Féin.