25 November 2004 Edition
Anderson in Italy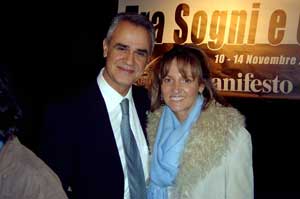 Sinn Féin's All-Ireland Co-ordinator, Martina Anderson, recently travelled to Turin to represent the party at the Turin Social Forum where the theme for the three-day conference was 'Tra sogni e conflitti' (between dreams and conflicts). This was the first year that the event, organised jointly by FIOM, (Italian Metal Workers' Union) and the newspaper Il Manifesto, has taken place. Prior to her departure, Martina said she was delighted to be representing the party at this important event and of having the opportunity to outline the ongoing experiences of Sinn Féin to a wider international community.
The opening plenary session on Friday 12 November focused on War and Peace and was addressed by representatives from Palestine, Kurdistan, Turkey, France, Iraq, Britain, as well as representatives from FIOM. During this session, Martina outlined the underlying causes of the war in Ireland and spoke of what is needed in order to ensure a lasting peace.
On the Saturday, Martina along with George Galloway of the Respect Coalition in Britain, Fabien Maguin, elected representative from the movement Motive-e-s in Toulouse, and Sabah al-Mukhtar, an Iraqi lawyer, spoke to the theme of Movements and New Forms of Politics. Martina told the audience of the outreach work that is currently being undertaken by Sinn Féin. Of particular interest to the audience was the party's Rights for All Charter consultation document and the recognition that it gives to involving all levels of society in shaping the future.
On the Sunday, Martina, along with Remzi Kartal, vice president of the Kurdish party Kongra-Gel, spoke about the states of the peace processes in their respective countries. During the discussion, they drew out the contrasts of being inside and outside of the European Union. Both were clear that the European Union as an institution has failed to address the actions of its members, leaving them to deal with what they classed as internal matters, when in fact, both Britain and Turkey have been responsible for occupation and bloody repression.
Summing up her attendance at the conference, Martina said it had been advantageous to meet, talk with and explain at first hand the situation in Ireland to so many international representatives and also to hear of their experiences. On behalf of Sinn Féin, she thanked the organisers and wished them well in planning for such future events.