25 November 2004 Edition
Part privatisation of Aer Lingus a Trojan horse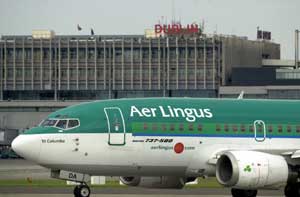 Sinn Féin TD Caoimhghin Ó Caoláin says the Goldman Sachs report on the future development and direction of Aer Lingus has correctly shown that any partial divestment of the company by the Government will seriously undermine the state's strategic interests and will lead to the complete privatisation of the company.
Pointing to the observations contained in the report, Ó Caoláin said the partial privatisation option was merely "a Trojan horse to enable the State to divest itself of all interest in the airline".
"The report also indicates that any such investment will not be done with the long-term viability of the airline uppermost in the minds of those investing in it but rather as a means for individuals or groups to make a quick killing, like they did with Eircom," said the Sinn Féin Dáil leader. "Any new investment will by its nature be contingent on the investor extracting a handsome share of the profits from the airline in return.
"Crucially, the report also points out that the state will lose 'control of strategic issues'. To allow this to happen would be utter folly, as the strategic importance of having a national carrier cannot be underestimated in terms of Ireland's position as a small island economy on the edge of Europe. Our ability to contact and trade with the rest of the world should not be at the whim of external or private enterprises. We need a state airline, a national carrier. Aer Lingus is successfully fulfiling that duty and the state should look at it as an asset to invest in, rather than a burden to divest itself of."