25 November 2004 Edition
Working to enhance local power
BY ROISIN DE ROSA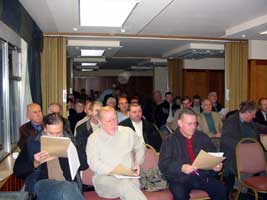 Many people, as they left last Saturday's conference of Sinn Féin's National Elected Representatives Forum (NERF), commented that they had participated in a quite unusual and remarkable event — a birdseye view of where we are and where we are going.
The meeting discussed Sinn Féin's position on Public Administration which, as an outworking of the Good Friday Agreement, is under review at present.
Sam Porter of the Policy Research and Development Department gave a presentation covering the shape of future local government and how to ensure democratic institutions.
He briefly outlined some of the models the British have proposed and some of the issues and principles that should guide republicans in determining powers and institutions to enable participatory government. He spoke of local authority institutions of public administration that would lay a basis for the empowerment of people and communities.
These issues are of major importance to us, as NERF chair Joe Reilly said. In the North 50% of government spending is through institutions of local government — in the South it represents 40%. "We are here delineating future structures of local government which may be in place as we move into a united Ireland," he said.
Workshops discussed a range of questions, such as: What powers should different levels of local authorities have? What legal mechanisms can ensure that councils treat all elected reps with parity of esteem? How can we ensure that the D'Hondt Principles are enforceable, that majoritarian and sectarian rule cannot re-emerge in councils? How many councils, at what level of regionalisation, or localisation, should there be?
How do we ensure that quangos, and huge unaccountable bureaucracy, do not stand in the way of the principle of subsidiarity — that government be exercised at the level closest to those affected by its decisions?
How do we build institutions that enable genuine participation of the hitherto excluded sections of society? How can we ensure that participatory fora are not the exclusive preserve of 'the good and the great', who like to substitute themselves for the disadvantaged communities they purport to represent, acting only to preserve the status quo and continuing disadvantage?
These were the questions raised in workshops which people throughout Sinn Féin, North and South, need to discuss together.
Helmuth Markov MEP, a German member of the United European Left/Green Nordic Left, the group Sinn Féin is allied with in the EU Parliament, spoke of his party's political work in the municipalities and the changes that re-unification has brought to the struggle for social economic rights in Germany.
Helmuth is from Brandenburg and is a member of the Democratic Socialist Party, which has about 25%-30% support in what was East Germany.
He talked about the huge social problems that have accompanied German re-unification, particularly in the east, as a society built on solidarity and sharing of resources had to confront unemployment alongside vastly reduced social supports from the state.
"It was difficult to adjust to such a different culture, where people do not enjoy social rights," he said.
Addressing the topic at hand, he said: "In Germany we have this principle of subsidiarity. Central government has no right to make laws that affect regional communities. This is our remit — in the municipalities."
It was a powerful address, giving a perspective on how to build truly democratic institutions.