25 November 2004 Edition
Ireland's invisible immigrants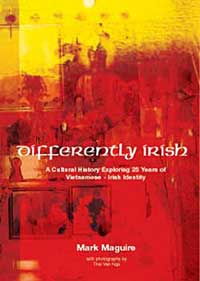 If you thought racism in Ireland was a recent phenomenon, one of the uglier offshoots of the Celtic-Tiger and prosperity, then think again. If we are to believe social theorist Mark Maguire's study of 25 years of Vietnamese-Irish identity, our céad míle fáilte has required conditions that suited us, the Irish, first, a condition that most, if not all of, our reluctant but grateful guests were ill-equipped to handle.
In order to illustrate his thesis, he takes us on a meander through our response to those who were set adrift in our society, from Jewish refugees in the aftermath of World War II.
He then takes us to Hungarian refugees of 1956/'57, who were quarantined, yes, quarantined in a redundant military barracks in County Clare, where our guests were so unhappy with the conditions they were housed in that they resorted to that most Irish of solutions; they went on hunger strike and demanded to be sent to Canada or the USA. This was while the Irish and Sunday Press shrieked about the torture of our fellow Catholic Hungarians and the Independent, not to be outdone, gave us a graphic blow by blow description of the escape of the Cardinal of Budapest to the safety of the US Embassy, where he was to remain until the 1980s.
After the CIA-inspired military overthrow of the democratically elected Chilean government of Salvador Allende Gossens, which gave us the murderous and repressive military junta of General Augusto Pinochet — under whom it became a capital crime to have supported trade unions, education of the poor or provide basic medical care in the slums — a small group of Chilean refugees was temporarily sheltered here in the 1970s. Most of them remained guests of our nation just long enough to pass the message to the Vietnamese Boat People that Ireland was not a place they should be looking to for a welcome or for caring concern for their needs.
To the Vietnamese, however, choice was a luxury that was gone and lost with their belongings and their families and loved ones on the open waters of the South China Sea. Their perilous plight was the grist for TV documentary and news reports throughout the 1970s. The Irish Times in July 1979 described the plight of one such boatful of refugees, arriving in Malaysia only to be twice towed back to sea by the Royal Malaysian Navy, where it was attacked by pirates on at least four occasions. Our Government 'on the advice of their advisers', had refused a number of requests to re-settle Vietnamese, citing the state of our economy, high unemployment and our trade deficit.
Under pressure from a collection of non-governmental organisations and the Churches, the government finally caved in and accepted 100 refugees, to a fanfare that any modern spin doctor' would be proud of. Using an international conference in the Swiss city of Geneva, while Ireland held the presidency of the EEC, thus ensuring maximum publicity, this was increased to 200.
The Vietnamese are now the most established group of immigrants in the country. Maguire felt that they offered the best model through which to examine the whole issue of migration to Ireland today.
"The Vietnamese-Irish are the one and only group of refugee populations to remain in Ireland," he says.
"Rather than reacting to more recent migrations, I wanted to explore a slice of cultural history, almost a mature and established community that generally does not draw attention to itself. The first-generation immigrants are particularly quiet and private; I think the only reason they agreed to talk to me was because they liked the idea of leaving a record of their experience for future generations."
When the first group of refugees arrived in the late summer of 1979, they were housed in the James Connolly Memorial Hospital in Blanchardstown, County Dublin. When, later that autumn, a further group arrived, they were housed with the Christian Brothers in Swords. Here, they were provided with English-language tuition, mostly by special education teachers, trained mostly in the education of the deaf and visually impaired. Most of the Vietnamese refugees and their teachers found this situation far from ideal.
Later, as the Boat People were dispersed to other parts of the state, this in line with internationally accepted best practice designed at preventing ghettoisation, the areas' special tuition became even more erratic. Refugee children of schoolgoing age, with very poor or no communication ability in either English or Irish, were being left to suffer in silence, or were placed in classes that were far below their natural ability or age group.
Voluntary local support groups had been established to ease the pains of integration. In many cases, the quality of accommodation varied, from private houses to mobile homes. It soon became clear that the re-settlement programme wasn't working. The government committee charged with managing re-settlement was wound down, leaving local groups adrift without guidance, with refugees dispersed to the four corners. Alongside this, the voluntary effort began to tail off, abandoning their charges for the latest and more fashionable cause. A second wave of migration began, back to Dublin and into the larger towns and cities that might provide employment opportunities and a greater concentration of fellow refugees and their own Vietnamese community support.
In the face of ever decreasing opportunity and an ever increasing unemployment crisis in Irish society, the Vietnamese made their own opportunities, mostly in the fast food industry. They soon fond themselves coming face to face with the boom industry of the day, gangsterism, in the poor and deprived areas of our towns and cities, where demands for monies were constant and failure to pay resulted in the destruction of the means of earning a living. The burning of takeaway vans and assaults on their operators were not uncommon. Faced with this and institutional racism from the Gardá and the other instruments of the state, it is a testament to the Vietnamese community's forbearance and spirit that, despite their suffering and being left by successive governments to sink or swim, they survived and prospered in their adopted society.
Maguire records that most people he spoke with had remarked on the ethos of hard work and the value of education for the next generation.
"Almost without exception, they have an outstanding work ethos and place a great premium on the education of their children," he says. "For the first generation of Vietnamese refugees, their great hope is that, through hard work, the next generation will get good jobs and prosper. But there's a great lack of self-promotion and reluctance to network beyond their own community, which could hold them back in the long term."
Maguire has no magic solutions to the issues of immigration into our society, but his book puts forward the view that a careful examination of immigration history and cultural diversity and an understanding of that difference should shape future Irish policy in this field.
The most important criterion is that our responsibilities don't change with economic prosperity.
This book should be on the reading list of the Minister for Justice, his senior civil servants and government law officers.
So, Michael McDowell, get that government credit card out and get down to one of the many excellent book shops within easy walking distance of Teach Laighean. This will be much better for your waistline than all those trips to those Oriental food emporiums around the Green or Leeson Street.
BY ÉAMONN Mac MAGHNUIS