25 November 2004 Edition
Renewed opposition to incinerators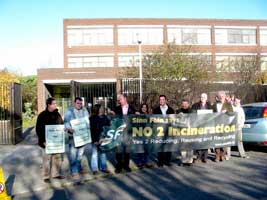 Martin Hallinan, Sinn Féin member of Cork County Council, secured almost unanimous support for his recent resolution calling on the new Minster for the Environment, Dick Roche, in the interests of democracy, to change plans to build an incinerator at Ringaskiddy.
The only dissenters were two of the Fianna Fáil Group, who opposed the resolution. Martin referred to the opposition to the proposed incinerator, by the councillors in previous years, by An Bord Pleanála officials, by mass community protests, and most recently by Minister Willie O'Dea.
The new Defence Minister, who was recently visiting a naval training site that backs onto the proposed incinerator site, recently declared his opposition to the proposal as representing a danger to those who will use the Naval building. Martin said that it was a matter of simple democracy that the wishes of the community, which have been expressed so vociferously in their campaign, should be heard, and the plan dropped.
Sinn Féin has also lodged a formal appeal with the Environmental Protection Agency against the granting of a Waste Licence to Indaver Ireland to operate an incinerator at Carronstown, Duleek, County Meath.
County Councillor Joe Reilly has called for the entire incinerator process to be halted. He described the extremely casual attitude of the Environmental Protection Agency to incineration as "dangerous and unacceptable" and said it is unbelievable that their licensing arrangements would allow Indaver to treat hazardous material, which is among the most toxic known to human kind, in the same manner as it would a sack of household refuse.
• Sinn Féin members protested on Saturday 13 November outside Ringsend Technical College in Dublin, where MC O'Sullivans were holding a 'sell the incinerator' meeting with members of the council and some few members of the community. O'Sullivans, the principal consultants employed under the previous Minister, have proposed incinerators for waste management across the 26 Counties. Their expensive 'reports' have been ardently criticised by anti-incinerator campaigners.