25 November 2004 Edition
Victims of occupation
BY JOANNE CORCORAN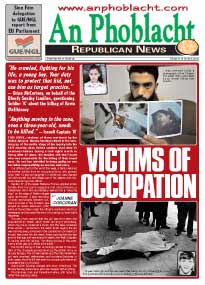 "He crawled, fighting for his life, a young boy. Your duty was to protect that kid, not use him as target practice." - Brian McCartney, on behalf of the Bloody Sunday families, questioning Soldier 'K' about the killing of Kevin McElhinney
"Anything moving in the zone, even a three-year-old, needs to be killed." — Israeli Captain 'R'
This week, relatives of those murdered by the British Army on Bloody Sunday listened to the summing up of the public stage of the inquiry into the 1972 atrocity, when British soldiers shot dead 13 unarmed civilians during a civil rights march in Derry. After 32 years, the families still don't know who was responsible for the killing of their loved ones. No one has admitted to being guilty, no one has taken responsibility, no one has said sorry.
In a different part of the world this week, a family watched as another soldier from an occupying force, who gunned down their 13-year-old daughter in cold blood, was charged not with murder but with illegal use of his weapon and conduct unbecoming of an officer.
Captain 'R', of the Israeli 'Defence' Forces, emptied all ten bullets from his gun's magazine into Iman al-Hams, a Palestinian child who accidentally walked into a "security area" on the edge of Rafah refugee camp last month. A tape recording of radio exchanges between soldiers involved in the incident was played on Israeli television, after some of the soldiers under the officer's command went to a newspaper and accused the army of covering up what really happened.
The army had claimed that the girl was shot when she approached an Israeli watch tower carrying a schoolbag, which may have contained a bomb. But the tape contained three voices — someone in the watch tower saying the girl was running away, someone in the operations room asking if the girl was under ten, the watch tower replying that she was around that age and was scared to death, and finally Captain R, having shot her, saying: "Anything moving in the zone, even a three-year-old, needs to be killed."
The horrific killing of Iman is chillingly similar to the murders of the 13 people gunned down by the British Army on Bloody Sunday. The 13 nationalists and the little Palestinian girl were unarmed, defenceless, and murdered because, in both cases, shoot-to-kill was seen by occupying forces as an acceptable policy of control.
Iman's killer is being charged with minor infractions. The Bloody Sunday killers have yet to be charged with anything.
The families, Irish and Palestinian alike, still hope for, rather than expect, justice.