18 November 2004 Edition
Call for full Citizenship Rights for ex-prisoners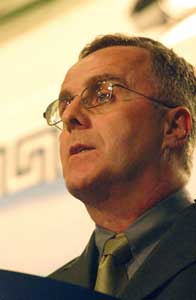 Sinn Féin MLA for Foyle and former political prisoner Raymond McCartney on Tuesday attended a conference in Dublin Castle involving republican and loyalist former prisoners. The conference was organised to discuss the difficulties faced by former political prisoners and promote the need for dialogue.
"Today's conference is a welcome development and is necessary given the ongoing discrimination being experienced by many former political prisoners across the island as they strive to build a life for themselves and their families," said McCartney.
"We are still dealing with the legacy of criminalisation with the result that former prisoners and their families are being denied basic rights or find their rights seriously impeded.
"These include in areas such as employment, adoption, insurance, education and training. Restoration of full citizenship rights, ensuring that ex political prisoners have the same rights as all other citizens is essential and needs to happen immediately. This is a key element in any process of conflict resolution.
"The republican ex-prisoner community plays a central role in the political, social and cultural fabric of our communities. We have also played a positive role in the developments within the peace process over the past ten years. This work will continue in the time ahead and today's conference will, of course, enhance all of that."