18 November 2004 Edition
Gráinne Mhic Géidigh selected for Údaras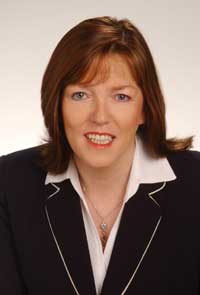 On Saturday night last, Sinn Féin members from all over Donegal gathered in Teach Jack, Gweedore to choose a candidate to contest the impending Údaras election in April. There were over 150 in attendance to choose a candidate to contest the impending Údaras election in April, which could ultimately lead to the party taking its first seat ever on the board
Sinn Féin Councillor Pearse Doherty chaired the convention and Councillor Thomas Pringle nominated Gráinne Mhic Géidigh, who was elected unopposed.
Gráinne said: "I am very proud and honoured to be chosen to the Sinn Féin candidate who will take our party's first every seat on the Board of Údaras.
"We believe that the power should be in the hands of the people and not in the hands of the politicians. It is clearly not good politics to have the same person in the County Council and on Bórd Údaras na Gaeltachta.
"At present there are three such people and it has proven to be ineffective both locally and regionally. These politicians are more interested in showing up power for themselves than in representing the community. Isn't it ironic that these Bórd members, whose responsibility is job creation in the Gaeltacht, feel fit to hold down at least two jobs while at the same time sitting back and overseeing the loss of over a thousand jobs."
Guest speaker, Dublin TD Aengus Ó Snodaigh, said he had never seen so many people at a Sinn Féin convention. "It is a clear sign of the strength of the party in this community," he said. "When Gráinne is elected onto the Board of Údaras we will be the only party with representation on every government body on this island a clear sign of the changing face of politics on this island."
Gráinne Mhic Géidigh is native of Ranafast, who has lived in Gweedore for the past 21 years. A mother of four in her mid-40s, she loves all things Irish.
A native Irish speaker from the heart of the Gaeltacht, she is keen Irish cultural enthusiast. Gráinne works within the local community promoting Irish culture and heritage. She is currently undertaking a Degree in Irish Studies in Magee College, Derry and is an adult tutor teaching Irish for the VEC.
She has strong republican roots. Her family are lifelong republicans she has from an early age been a committed republican activist
Like many in the community, Gráinne has been affected by the unemployment crisis that this area has seen in the last number of years. Having been laid of from Aireagail Teo in Falcarragh, she has experienced first hand the financial and emotional pressure put on families.
Like many women in the Gaeltacht, Gráinne committed her most of her time to raising her young family. Now that her family are all in their teens, she feels she finally has the time to commit to the community full time.