18 November 2004 Edition
An Post in crisis - Doherty criticises Government inaction on rural closures
BY ROBBIE SMYTH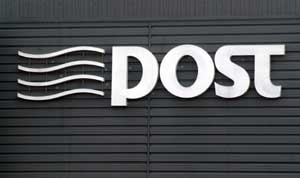 Disputes between An Post, its unions, the postal regulator ComReg and small businesses threaten to push the company into crisis just as it approaches the busiest time of the postal year.
The Communications Workers Union (CWU) has begun to ballot postal workers for industrial action because of the company's failure to deliver on wage commitments. In the same week, the Irish Postmasters Union (IPU) said that it was inevitable that there would be more post office closures this year. According to the IPU, 300 post offices have closed over the past three years, with 65 so far this year.
Further tension between An Post and its workers has arisen because of management's decision to close the SDS parcel delivery service, with a loss of 270 jobs. This is in addition to another 1,000 plus redundancies being sought by the company.
AN POST RE-STRUCTURING
An Post and the CWU had been involved in negotiations on restructuring and the SDS issue through the National Implementation Body. In August, it emerged that An Post management only informed the worker directors at the company of their intention to shut SDS the day before it became public knowledge.
The CWU was angry at the lack of discussion or negotiation, particularly as it was in ongoing discussions with An Post, and because earlier in the year, as part of the Sustaining Progress deal, a commitment was given to "active engagement" with unions on the future of commercial semi-state companies.
The SDS row was defused after An Post agreed to participate in a "meaningful consultation and information sharing process". It was clear this week that this was not happening.
An Post took the pre-emptive step of contacting 3,000 of its customers, telling them that SDS parcel and courier services would no longer be available to them from 1 December. An Post was closing their accounts.
CWU CALL FOR SUPPORT
This prompted CWU general secretary Steve Fitzpatrick to write to SDS customers saying that small and medium sized businesses had been targeted by An Post and that these businesses now faced massively increased postal costs. The CWU wants small business support to reverse the SDS closure decision.
All of this is happening against a backdrop of possible mass industrial action by all postal workers. The CWU is balloting on management offers of a 5.35% wage increase spread over three years for agreeing to restructuring proposals and on a second ballot giving the union a mandate for industrial action to protect their existing work agreements.
The CWU agrees that "changes are needed" but stresses that, "the extent of the changes being sought are unacceptable", according to Fitzpatrick.
There are up to 30 issues which are still unsolved but what is irritating the unions and has prompted the second ballot are unmet wage increases in the current wage agreements. An Post has saved €20 million from its wage bill this year by pleading inability to pay wage rises agreed under the Sustaining Progress partnership deal.
Senior management, including chief executive Donal Curtin, have gone without their bonus payments as part of the cutbacks.
700 POST OFFICES AT RISK
An Post is also likely to break even in 2005, having run up losses of €43 million in 2003; the question is at what cost and are the management strategies the best ones?
For example, the IPU want something done about the "precarious existence" of the post office network. They propose that Communications Minister Noel Dempsey allow the post office networks to benefit from Public Service Obligation (PSO) supports which allow the state to provide funding for certain enterprises without breaching EU law.
After a meeting with Dempsey, the IPU said though they had been given a sympathetic hearing, he was unlikely to come through on the PSOs. Sinn Féin Councillor Pearse Doherty has criticised the Government's attitude and inaction.
"This Government has continually failed to live up to its social obligations to support An Post," he said. "The reality is that 300 rural post offices have already closed in the last three years and a further 700 are now at risk in the next five years. The loss of post offices will have a devastating affect on rural communities and can lead to the loss of other services and further depopulation."
Doherty believes that it is the responsibility of the Government to provide adequate postal services to people in isolated rural areas just as it is in urban areas. He says that Noel Dempsey has turned his back on people in rural areas.
DISPUTE WITH COMREG
An Post has been silent on this issue of the ongoing erosion of its office network. Maybe because it has been a busy year for the company, with industrial disputes and worker lockouts.
For example, An Post is in continual dispute with ComReg over the postal regulators figures for next day delivery. ComReg found that only 70% of letters were reaching their destination a day after delivery, even though the target was for a 94% delivery rate. An Post disputed the figures and claimed a 92% next-day delivery rate.
In August, An Post announced that it was to spend up to €500,000 hiring consultants to examine whether the 94% target was reachable.
But consultants are not the solution for every problem faced by An Post management. They don't agree with the findings of independent consultants hired by the CWU. LHM Casey McGrath found that the SDS service will generate revenues of €68.1 million this year.
Not so, says An Post, who put the revenue at €63 million. The €5 million difference is crucial, as a higher revenue figure will show the SDS service performance levels had been maintained, with restructuring and cutbacks, and would halve the projected losses on this service for the year. It seems that the only consultants An Post believes are the ones it hires!
SCAPEGOATS
All of these factors, taken together, show a company in crisis and looking for scapegoats. What is happening in Ireland is being repeated across the world. In Britain, the Royal Mail failed to meet all 15 of the performance targets set for them between April and June by Postcomm, their industry regulator. The British mail service only managed an 88.3% next-day delivery service, compared to the regulator's target of 92.5%. In Germany, Deutsche Post is to close 1,000 post offices by the end of 2005.
Across the world, postal networks constitute the world's largest physical network, with 650,000 outlets and 5 million employees around the world. However, one in 20 of the world's population still has no access to a basic postal service and in Africa the figure can be as high as 25% of the population without postal services.
POST SERVICE VITAL
What is clear is that, throughout the world, the postal network is an important cog in the overall economic activity of both households and businesses. Across the world conventional snail mail volumes are still increasing especially in the context of the growth in online shopping.
The Universal Postal Union (UPU), a UN agency, has found that 40% of its 190 member states offer online postal services, 20% offer email services, 13% offer online bill payments, 13% sell goods via the internet and more than 33% operate internet kiosks in post offices.
Postal networks are a vital national and international network. Surely we should be building an island network of offices and services and the Dublin Government should be leading the way.
It is clear this week that this isn't happening and that An Post management seem more intent on a collision course with workers rather than co-operation.