18 November 2004 Edition
Batasuna in fresh talks bid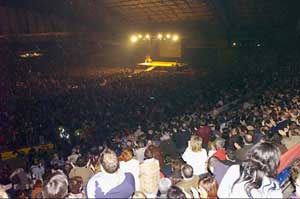 On Sunday 14 November, the Basque pro-independence party Batasuna presented a fresh proposal for a political solution to the conflict between the Basque Country and Spanish and French states.
Batasuna believes that this is the right time to "open new ways" to negotiate and, in a public meeting attended by around 15,000 people, representatives from the past and the present of the pro-independence movement reiterated their commitment "to work for peace".
Jon Idigoras, a member of the national executive of Herri Batasuna until 1998, when the 23 members of the leadership of the organisation were imprisoned by the Spanish courts for trying to publicise peace proposals from ETA, says "the Basque pro-independence left is alive despite all the repression".
Batasuna's proposal outlines seven steps to resolve the conflict, based on getting to the root of the conflict to find "a democratic way out".
The document says Basque citizens have the right to decide their future and should be allowed to vote over the country's political status.
Batasuna assure that they will respect the will of the citizens and will do their utmost to ensure this vote will take place in peaceful and democratic conditions.
The document points out that any subsequent agreement that may be reached as a product of negotiations should be "supportive and respectful" to all ideologies present in the Basque Country.
Batasuna explains that it is ready to solve any differences "through peaceful and democratic means", and that the party accepts that this is the only way "that all political projects will achieve their full potential".
Finally, Batasuna's proposal points out that any agreement should be based on international human rights conventions and agreements on economic and civil rights.
The latest negotiation bid takes place as some members of the Socialist Party, which is in government in Spain, have called on their party to open dialogue with Batasuna. Mayor of San Sebastian, Odón Elorza, one of the sitting MPs in the Basque parliament, and other four public representatives, have asked Spanish PM Zapatero to put an end to the criminalisation of the pro-independence movement and to transfer Basque prisoners to jails in the Basque Country.
Elorza and his colleagues in the Socialist Party branch in the Basque Country, said the Batasuna proposal should be considered by the Socialists. They said that Batasuna's renewed commitment to political and peaceful means to achieve an independent Basque Country should mark a turning point for the anti-terrorist policies of the Spanish establishment.
However, the Socialist Party in Madrid rushed to point out that the Spanish Government has not considered changing its repressive policies against Basque nationalists.