18 November 2004 Edition
The people's leader - Yasser Arafat dies
BY JOANNE CORCORAN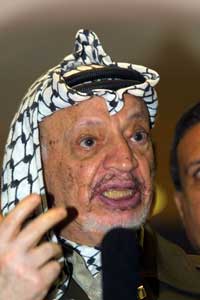 "To us, he is a man who produced dignity, resilience, who himself lived a very austere life in parallel with the way many Palestinians live."
— Palestinian Foreign Minister Nabil Shaath
Yasser Arafat, leader of the Palestinian people, guerrilla icon and winner of the Nobel Peace Prize, died last Thursday 11 November.
As the news broke in the early hours of Thursday morning, the people of his homeland expressed shock at the sudden demise of their 75-year-old leader. In towns and refugee camps across the occupied West Bank and Gaza Strip, tens of thousands of Palestinians poured into the streets with wails of grief and volleys of gunfire.
Political figures from across the globe immediately issued tributes to Arafat. French President Jacques Chirac called him "a man of courage and conviction".
Sinn Féin President Gerry Adams expressed his deep sorrow and said that the most fitting legacy to President Arafat would be a sovereign Palestinian state.
Adams said there was "a close affinity and affection between the Irish and Palestinian people" and that his death would "be a cause of much sorrow".
Arafat had been transported to a Paris hospital from his Ramallah compound, where he had been confined by the Israeli authorities for two-and-a-half years, on 29 October, for medical treatment of a mysterious illness. But it was only in the few days before his death that rumours he was dying began to spread. The cause of his death is still shrouded in secrecy.
On Thursday morning, Arafat's body was given a full military escort from the military hospital in Clamart, south of Paris, to the plane that took him onto Cairo for a state funeral. The funeral in Egypt was attended by his wife, Suha, his daughter Zahwa, British Foreign Secretary Jack Straw, US Assistant Secretary of State William Burns, South African President Thabo Mbeki and Arab heads of state.
From there, Arafat was transported to the West Bank city of Ramallah. Israel refused to allow the burial of the Palestinian leader in the holy city of Jerusalem, so supporters cleared rubble from his Ramallah compound to make room for a grave.
Palestine mourns
Thousands of Palestinians greeted the arrival of the Palestinian leader's body by helicopter, chanting "God is Great".
The coffin was carried from the helicopter to a car roof and transported through the crowd to his burial place. He was buried in a stone coffin, which, Palestinians hope, can one day be moved to Israeli-controlled east Jerusalem.
As Arab leaders called to pay their respects, Palestinians huddled around radios on street corners and loudspeakers from mounted on trucks blared Arafat's most famous quotes. Some mourners bore portraits of their dead leader.
In Gaza City, Safa Omar named one of her newborn twins Yasser and the other Arafat. Doctors said they expected many more babies to be named after him, with one saying: "One Arafat dies and 1,000 will arise."
Amar Muheisen, a 22-year-old student from Gaza City told reporters: "Yasser Arafat is inside in our hearts — in the hearts of the real nation of Palestine. Yasser Arafat will never die."
Not far away in Gaza, Jewish settlers danced and drank champagne to celebrate Arafat's death.
Interim government
With condolences for Arafat's death pouring in from across the world, Palestinian officials urged Israel to revive stalled talks. But within hours, Israeli soldiers had shot dead four Palestinians during stone-throwing confrontations in the West Bank.
Under Palestinian law, Arafat was replaced as President of the Palestinian Authority by parliamentary speaker Rawhi Fattouh, who must organise elections within 60 days.
Mahmoud Abbas was elected to succeed him as chairman of the Palestine Liberation Organisation, the Palestinians' highest decision-making body. Ahmed Qurie is expected to remain in charge of day-to-day governing.
Farouk Kaddoumi was named to take over Fatah, the dominant Palestinian faction.
However the interim government has been already dogged by incidents — Abbas, who is considered to be a moderate, was the subject of a gun attack by a Palestinian militant group last week.
While the new Palestinian Authority declared a 40-day mourning period, there was no sorrow expressed among Israeli officials. Justice Minister Yosef Lapid spoke of a "deep hatred for a man who made terrorism a method in the world".
Meanwhile, Israeli Prime Minister Ariel Sharon vowed to push ahead with an Israeli withdrawal from Gaza in 2005.
Arafat — a biography
Mohammed Abdel-Raouf Arafat As Qudwa al-Hussaeini was born on 24 August 1929 in Cairo. His father was a Palestinian textile merchant with some Egyptian ancestry, his mother was a member of an old Palestinian family in Jerusalem.
Yasser, as he was called, was five years old when his mother died, and afterwards he was sent to live with his uncle in Jerusalem, the capital of Palestine. The city was under British rule at the time, a situation Palestinians were actively opposing. Arafat later said that one of his earliest memories was of British soldiers breaking into his uncle's house after midnight, beating members of the family and smashing furniture.
When he was nine he returned to Cairo. Later he attended the attended the University of King Faud I in Cairo.
By the time he was 17, Arafat was smuggling arms to Palestine to be used against the British and the Israelis. At 19, during the war between the Israelis and the Arab states, Arafat left his studies to fight in the Gaza area. The defeat of the Arabs and the establishment of the state of Israel left him in despair, but he retained his dream of an independent Palestinian homeland. He returned to university to major in engineering but spent most of his time as leader of the Palestinian students.
In 1956 he got his degree, worked briefly in Egypt, then re-settled in Kuwait, first being employed in the department of public works, then running his own contracting firm. He spent all his spare time in political activities, to which he contributed most of his business profits. In 1958, he and his friends founded Al-Fatah, an underground network of secret cells. In 1959, the group began publishing a magazine advocating armed struggle against Israel. At the end of 1964, Arafat left Kuwait to become a full-time revolutionary, organising Fatah raids into Israel from Jordan.
The PLO
It was also in 1964 that the Palestine Liberation Organisation (PLO) was established, under the sponsorship of the Arab League, bringing together a number of groups all working to free Palestine.
In 1968, Fatah was the target of an Israeli Defence Force reprisal on the Jordanian village of Al-Karameh, in which 150 Palestinian guerrillas and 29 Israeli soldiers were killed.
Despite the high Palestinian death toll, the battle was considered a victory for Fatah because the Israeli Army was repulsed. Arafat came to be regarded as a national hero who dared to confront Israel and masses of young Arabs joined the ranks of Fatah.
The Arab states favoured a more conciliatory policy than Fatah's, but after their defeat by Israel in the 1967 Six-Day War, Fatah was recognised as the most powerful and best organised of the groups making up the PLO, and took over the organisation in 1969 when Arafat became the chairman of the PLO Executive Committee.
Arafat developed the PLO into a state within the state of Jordan, with its own military forces. King Hussein of Jordan, eventually expelled the group, fearing it was infringing on his country's sovereignty. Arafat then sought to build a similar organisation in Lebanon, but this time was driven out by an Israeli military invasion. During Lebanon's civil war, Israel allied itself with the Lebanese Christians, and conducted two major invasions of Lebanon. In the second, Israel expanded its occupation to most of South Lebanon, but was eventually forced to retreat back to the Security Zone in 1985. The Sabra and Shatila Massacre occurred during the second Israeli invasion of Lebanon. Up to 3,500 Palestinian refugees were killed by Lebanese Maronite Christian Phalangist militias (which were allowed into the refugee camps by Israeli forces following the assassination of Lebanon's Christian President Bachir Gemayel). The Israeli invasions of Lebanon and the Phalangist massacre of Palestinian civilians amplified the deep bitterness and mistrust between Palestinians and the then-Minister of Defence, Ariel Sharon (who was found indirectly responsible for the massacre by an Israeli commission of inquiry and subsequently forced to resign).
Arafat kept the organisation alive, however, by moving its headquarters to Tunis. During this time he proved that he too was a survivor, escaping death in an airplane crash, surviving the many assassination attempts by Israeli intelligence agencies, and recovering from a serious stroke.
His life was one of constant travel, moving from country to country to promote the Palestinian cause, always keeping his movements secret, as he did any details about his private life. Even his marriage to Suha Tawil was kept secret for some 15 months.
The period after the expulsion from Lebanon was a low time for him.
But in 1987, the first Palestinian Intifada erupted in the disputed territories. The protest movement strengthened Arafat by directing world attention to the difficult plight of the Palestinians.
Policy change
Then, in 1988, came a change of policy. In a speech at a special United Nations session held in Geneva, Switzerland, Arafat declared that the PLO renounced conflict and supported "the right of all parties concerned in the Middle East conflict to live in peace and security, including the state of Palestine, Israel and other neighbours".
The prospects for a peace agreement with Israel now brightened. However, it suffered a setback when the PLO supported Iraq in the Gulf War of 1991. Arafat felt under pressure to back Saddam Hussein, who had been a very vocal supporter of the Palestinian people.
In 1993, the Intifada protest finally ended, when Arafat signed the Declaration of Principles agreement in Washington with the late Israeli Prime Minister, Yitzhak Rabin.
This led to the 1993 Oslo Accords, which called for the implementation of Palestinian self rule in the West Bank and Gaza Strip over a five-year period. The following year Arafat was awarded the Nobel Peace Prize, along with Rabin and Israeli Foreign Minister Shimon Peres.
In 1994, Arafat moved to the Palestinian Authority (PA) — the provisional entity created by the Oslo Accords and re-entered Gaza after 27 years in exile.
On 20 January 1996, Arafat was elected president of the PA, with an overwhelming 87% majority. Further elections were announced for January 2002, but were later postponed, because of the inability to campaign due to Israeli Army incursions and restrictions on freedom of movement in the West Bank and Gaza Strip.
Confined to Ramallah
Twice in 2002, Israel besieged Arafat's headquarters, claiming Palestinian attacks as the cause.
"Arafat has established a coalition of terrorism against Israel," Sharon said in March 2002. "He is an enemy and at this stage he will be isolated."
Arafat responded defiantly, saying said no one in the Arab world would "surrender or bow" to Israel.
"They either want to kill me, or capture me, or expel me," Arafat said, speaking by telephone to Al-Jazeera television from Ramallah. "I hope I will be a martyr in the Holy Land. I have chosen this path and if I fall, one day a Palestinian child will raise the Palestinian flag above our mosques and churches."
One more attempt at brokering peace came during this time, when the United States, Russia, the European Union and United Nations created what diplomats described as a "Road Map" for peace. The plan called for Arafat's dream of a Palestinian state by 2005. But the plan stalled within months, in the face of ongoing Israeli incursions into Palestine and attacks in response by Palestine militants.
Meanwhile, Israel announced unilateral plans to pull out of Gaza and part of the West Bank, but rejected Palestinian demands for the right for refugees to return to former lands inside Israel.
In one of his last addresses to the Palestinian people, Arafat echoed themes that harkened back over five decades. Israel cannot gain security, he warned, until there is an independent Palestinian homeland "free from occupation, free from settlements, free from the Israeli siege".