21 October 2004 Edition
Positive Feedback from Brussels meeting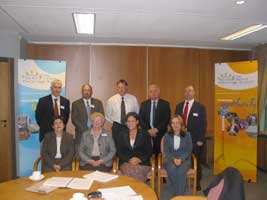 Members of the South Western Partnership LSP (Local Strategy Partnership) representing community victims Associations, travelled to Brussels last week to lobby for extra money for victims, and to seek the continuation of peace money in the form of Peace III.
The EU Programme for Peace and Reconciliation is a unique EU-funded programme for the Six Counties and the Counties of Cavan, Donegal, Leitrim, Louth, Monaghan and Sligo. Its main aim is to promote reconciliation and help to build a more peaceful and stable society.
Fermanagh/South Tyrone MLA Thomas O'Reilly, who was on the delegation, said that "last week was perfect timing to make our case to the EU as the final decision on the extension of Peace II until 2006 is being made this week".
The group met with three MEPs, Mary Lou McDonald (SF) (standing in for Bairbre de Brún), Jim Nicholson (UUP) and Jim Allister (DUP).
"What came across very clearly is that all our MEPs need to work together to secure the best funding provision possible from Europe in the Peace II extension and for possible peace III funding," said O'Reilly. "Once again, Sinn Féin was snubbed by the DUP; Jim Allister refused to engage with myself at all. He was not willing to work with his fellow MEPs to secure funding. In fact he wanted peace money sent to Scotland instead of the Six Counties for some reason. Perhaps that will win him support in Scotland, but he is surely failing to represent the people who elected him.
"However despite Unionist intransigence, our meetings in Brussels were very worthwhile because we put the case that rural communities like those in Fermanagh need to be supported in order to help wipe out discrimination. Money needs to be invested not only in the large urban areas, it needs to be earmarked for rural areas. It seems like the DUP aren't interested in looking after people West of the Bann.
"We also promoted our document for victims groups which sets standards that victims groups should adhere to. We have had interest in these documents from South Africa and the Balkans and we are happy to use our experience to help other people.
"We look forward to the successful negotiation of the Peace II extension and to securing funding for Peace III."