21 October 2004 Edition
Deportation protest at Leinster House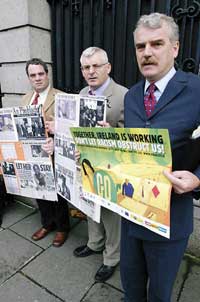 Anti-deportation activists gathered outside Leinster House this week to draw attention to the government's failure to recognise fear of Female Genital Mutilation (FGM) as a just ground for refugee status. The activists were joined by Sinn Féin TD Aengus Ó Snodaigh.
The protest came in a week that saw PD leader Mary Harney approach Justice Minister Micheal McDowell to get a stay on the deportation of Juliette Imuaraye. Imuaraye has campaigned widely to inform people of the injustice of FGM and the refusal of the Dublin government to accept the horror it involves.
Residents Against Racism (RAR), who joined the FGM protest, also raised the issue of parents of Irish children being deported. On Tuesday, 19 October, the European Court of Human Rights finally gave its judgement on the right of a parent of a child with British and EU citizenship to reside in the EU.
It was an historic decision and clearly puts the Dublin Government in breach of human rights in their policy to deport the parents of Irish born children.
There are 1,100 such parents who have lived in Ireland over the past year in a legal limbo of uncertainty regarding their rights to stay in this country.
Rosanna Flynn, an activist with RAR, said: "It is an obscenity that the Dublin Government should flaunt human rights endorsed in Europe, and deny the right of the Irish born child to remain in their parents' care here."