21 October 2004 Edition
Remembering the Past - TWO MARTYRS FOR A UNITED IRELAND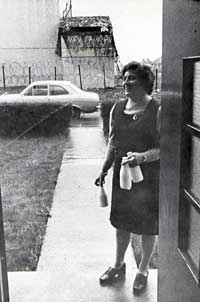 Terence MacSwiney dies on hunger strike
On 25 October 1920, 84 years ago, Terence MacSwiney died on hunger strike in Brixton jail.
MacSwiney was born in Cork City in 1879; he studied philosophy at the Royal University and obtained his degree in 1907. Caught in the zeitgeist of the time, MacSwiney became involved in the Republican Movement. He helped form the Cork unit of the Irish Volunteers in 1913 and published a weekly paper called Fianna Fáil (soldiers of destiny) in 1914. The paper was suppressed after only eleven issues.
MacSwiney was interned under the Defence of the Realm Act (DORA) in Reading and Wakefield Jails from April to December 1916. Then, in February 1917, he was deported from Ireland and interned in Shrewsbury and Bromyard Internment camps until June 1917. In November 1917, he was arrested in Cork for wearing an IRA uniform and was imprisoned in Cork Jail, where he went on a three-day hunger strike before his release. MacSwiney was re-arrested (under the so-called Cat and Mouse Act) in Dublin in March 1918 and was imprisoned in Belfast and Dundalk Jails until September, when he was released, only to be re-arrested and imprisoned to Lincoln Jail.
He was elected in 1918 to the first Dáil Éireann as the representative of Mid-Cork, while his friend and comrade Tomás MacCurtain was elected Lord Mayor of Cork. As a TD, he seconded Cathal Brugha's motion on the swearing of allegiance to the Irish Republic and the Dáil by all deputies and Volunteers on 20 August 1919.
On 20 March 1920, Tomás MacCurtain was murdered in his home by disguised members of the Royal Irish Constabulary. MacSwiney, as Deputy Mayor, was then elected Lord Mayor of Cork. Throughout this time he had continued in his work with the Irish Republican Brotherhood and had risen to be commander of the Cork No 1 Brigade of the IRA.
On 12 August 1920, MacSwiney and four other Cork IRA leaders, including Cork No 2 Commander Liam Lynch, were captured by crown forces. Failing to recognise the others they had captured, they released them but held on to MacSwiney. On 16 August, MacSwiney was sentenced to two years before a military court. He had no intention of submitting to a legal system he believed to be unjust and without authority. When he was asked if he wished to address the court, he said:
"I have decided that I shall be free alive or dead within the month, as I will take no food or drink for the period of my sentence."
The British whisked MacSwiney away to Brixton prison in London, thinking that they could control the publicity his hunger strike would generate if he was out of Ireland. They were mistaken. MacSwiney's hunger strike gained worldwide attention. The British Government was threatened with a boycott of British goods by North America and four countries in South America appealed to the Pope to intervene. Protests were held in Germany and France as well. As the pressure mounted on the British Government to release him, MacSwiney said:
"I am confident that my death will do more to smash the British Empire than my release."
As days went by, with MacSwiney somehow remaining alive, journalists in England began to speculate that Father Dominic, who was attending MacSwiney, must be smuggling food into him in his voluminous black beard. The government even had the contents of the basin MacSwiney used to clean his teeth sent to a lab for analysis.
At 5:40 am on 25 October 1920, Terence MacSwiney's body, after 75 days without food, finally gave out and he died. His last words to a priest by his side were:
"I want you to bear witness that I die as a soldier of the Irish Republic."
Irish Volunteers, wearing uniforms which were prohibited by English law, escorted his coffin through London as thousands of Irish exiles lined the streets. The young Ho Chi Minh, then a dishwasher in London, said of MacSwiney's death:
"A nation which has such citizens will never surrender."
They attempted to land MacSwiney's body in Dublin to take it overland to Cork for burial, but General Macready, fearing the reaction from the people, sent a force of Black and Tans to meet the boat. After a scuffle on the docks, in which MacSwiney's sister Annie clung to the coffin, the body was snatched away and loaded back onto the boat.
Terence MacSwiney was buried in Cork on 29 October 1920.
Máire Drumm killed in hospital bed
On 28 October 1976, 28 years ago, Sinn Féin Vice President Máire Drumm was shot dead in her hospital bed.
Máire Drumm (née McAteer), was born in the townland of Killeen, South Armagh, on 22 October 1919 to a staunchly republican family. Máire's mother had been active in the Tan War and the Civil War.
In 1940, Máire joined Sinn Féin in Dublin. In 1942, she moved to Belfast, which became her adopted city and she continued her republican activities. Every weekend, Máire would carry food parcels to the republican prisoners in Crumlin Road Jail and it was here that she met Jimmy Drumm, who she married in 1946.
When the IRA renewed the armed struggle in the late 1950s, Jimmy was again interned without trial from '57 to '61.
Máire became actively involved in the Civil Rights Movements of the 1960s. She worked tirelessly to rehouse the thousands of nationalists forced from their homes by unionist/loyalist pogroms.
During her work as a Civil Rights activist, Máire emerged as one of the Republican Movement's most gifted leaders and organisers. Máire was the first to warn that the British troops sent in as "peace keepers" were a force of occupation. Máire was a dynamic and inspirational speaker. Once, when addressing a rally in Derry after the shooting of two men from the city, Máire said:
"The people of Derry are up off their bended knees. For Christ sake stay up. People should not shout up the IRA, they should join the IRA."
In 1972, Máire became Vice President of Sinn Féin. Due to their dedication to the republican struggle, Máire's family was continuously harassed by the RUC, British Army and by loyalist intimidation. The British Army even constructed an observation post facing their home in Andersonstown. At one point, her husband and son were interned at the same time. Her husband, Jimmy became known as the most jailed republican in the Six Counties. Máire was also jailed twice for 'seditious' speeches, once along with her daughter.
In 1976, her eyesight began to fail and she was admitted for a cataract operation to the Mater Hospital, Belfast. On 28 October 1976, as Máire lay in her hospital bed, loyalist killers wearing doctors white coats walked into her room and shot her dead.
Máire Drumm, freedom fighter and voice of the people, was buried in Milltown Cemetery. One of her most famous quotes was:
"We must take no steps backward, our steps must be onward, for if we don't, the martyrs that died for you, for me, for this country will haunt us forever."