21 October 2004 Edition
Sinn Féin protests at Plastic Bullet conference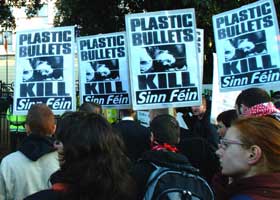 Sinn Féin called for the immediate removal of plastic bullets as its members joined a protest outside outside the poorly termed Less Lethal Weapons Conference in Dublin's Berkley Court Hotel on Tuesday evening.
Relatives for Justice, PANA and the Irish Anti-War Movement also participated in the protest.
Among those present was TD Aengus Ó Snodaigh, who said that Sinn Féin has consistently demanded that these lethal weapons be withdrawn. "There is no more debate required on this issue, only action. It is a sad reflection on the thinking of those involved in policing in Ireland today, that this conference is being held to discuss the tactical advantages of plastic bullets and other weaponry. Since the organisers do not want to listen to the voices of human rights campaigners inside their event, then we are left with no option but to make our voices heard outside today's event. Our message is simple: stop using plastic bullets against Irish citizens. Plastic bullets have no role to play in policing in any part of Ireland."
Sinn Féin members wrote on the ground outside the conference the names of the 17 people killed by these lethal projectiles in the Six Counties.