19 August 2004 Edition
Waiting for the others to catch up
BY LAURA FRIEL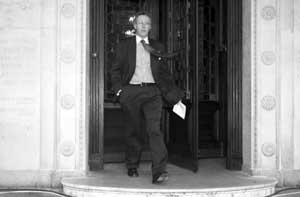 I remember Gerry Adams speaking in West Belfast not so long ago, spelling out what it means to be an Irish republican. I am paraphrasing his words, but in essence he reminded us that the most important part of the word republican was 'public', the people, all the people and that includes unionists.
Adams acknowledged that unionist politicians were often bombastic, patronising and sometimes downright insulting, but none of that really mattered. The important thing was that unionists had nowhere else to go and it was our duty to make them very welcome.
As we approach another set of talks, understandably, many people within nationalist Ireland feel frustrated. It's as if we've somehow strayed onto the filmset of Groundhog Day, where we are condemned to relive the same moments over and over again until we get it 'right'.
But like the movie, this is an illusion. The peace process is a dynamic process and throughout it all republicans have been moving forward. If anyone is caught in a timeloop, it has to be the DUP and UUP, with the UUP now painting itself into the rejectionist corner.
McGimpsey accuses
UUP Assembly member Michael McGimpsey added his voice to the latest round of unionist infighting by accusing the DUP of preparing to go into power sharing with Sinn Féin before full decommissioning.
McGimpsey said this amounted to a "major concession" which could no longer be supported by the UUP. It was clear that concessions were continuing despite Ian Paisley's party being given a clean slate.
"The DUP are fond of chest beating and posturing. An example of this was their promise that all concessions would stop. The DUP started with a clean slate. They promised a new agreement, a fair deal, a deal which a majority of unionists and nationalists would support.
"But most importantly, they stated that all concessions had stopped on November 26 last year. Almost immediately they began breaking this promise just as they have with all their other promises," said McGimpsey.
Of course, McGimsey's attack of bile had less to do with unionism's aversion to all things republican and more to do with making political progress for rival unionists as difficult as possible. Like the DUP before them, the UUP hope to tie the hands of their unionist rivals before any talks get underway.
No doubt the UUP's temper had not been sweetened by the fact that the party received its notice to quit their offices at Westminster and hand them over to the DUP this week. The defection of Jeffrey Donaldson stripped the UUP of its position, reducing their number of seats to five while increasing the DUP's total to six. Since the late 1980s, the UUP has lost more than half its Westminster seats.
And as if that wasn't sufficient a blow for the UUP, the secretary to the UUP Parliamentary Party, Margaret McKee, has handed in her resignation and is expected to take up an equivalent position with the DUP next month.
Robinson replies
Responding to McGimpsey, Peter Robinson of the DUP said that the UUP had "the track record of conceding everything" and was in "no position to accuse the DUP of doing likewise". Robinson went on to say that present negotiations were "being hampered by the debris from the Trimble years".
The DUP deputy leader said the UUP was attempting to rewrite history and claimed that the UUP was the real party of concessions. As for McGimpsey, suggested Chistopher Stalford writing in support of the DUP in the Newsletter, he wasn't exactly known for his "sparkling good humour".
McGimpsey fought back, accusing the DUP of continuing "its tradition of hurling abuse and invective when backed into a corner. It is clear proof that I have touched a raw nerve," said McGimpsey. The DUP was poised to offer "the mother and father of all concessions" to Sinn Féin, said McGimpsey.
Meanwhile, the equally sparkling Peter Robinson announced to the Irish media that the DUP was willing to work with Sinn Féin. "We do not need to like someone in order to work within the same structure," announced Robinson in a detailed letter to the Irish Times.
Robinson evaluates his party's contribution to the present political process as vigorous and dedicated. Vigorous because the DUP has "published two detailed policy papers" that "set out options" and dedicated, in comparison to other parties, because "none has submitted to the government the number and range of papers that the DUP has".
In fact, Robinson tells us, the DUP's paper trail has been so extensive that they have been forced into "marking time waiting for others to catch up". Now, come along, this is a serious business and it seems that the DUP may be prepared to be serious.
"The DUP is approaching the negotiations in September fully focused on attempting to deliver an agreement that will see devolved power exercised in a stable, accountable and exclusively peaceful and democratic environment," wrote Robinson.
The DUP 'but'
But, and there is invariably a but with the DUP, while the DUP are approaching the negotiation table "having received a renewed mandate", Sinn Féin's mandate counts for nothing. "Sinn Féin does not become a democratic party because it gained an electoral mandate," insists Robinson.
But there's no getting away from the fact that "the two main parties representing the two sections of the community are the DUP and Sinn Féin", says Robinson. "This reality is a fact of political life that cannot be wished away. Whatever path we seek to lay out must face this reality.
"Nothing anyone has said or done can be unsaid or undone and what has been said and done over the past decades is likely to ensure that there will never be a loving relationship between our two parties," said Robinson.
"But that's not the main issue we have to overcome. We do not need to like someone in order to work within the same structure for the people we represent," said Robinson.
Meanwhile, Robinson has accepted an invitation to address an annual small business conference in Dublin in September. As the Sunday Business Post was quick to point out, the last high profile visit of Peter Robinson ended in arrest and conviction.
In August 1986, Robinson led a 500-strong unionist mob that invaded Clontibret, County Monaghan. Robinson was arrested and fined IR£15,000 after being convicted of unlawful assembly.
Commenting on his proposed visit, Robinson said the conference would be "a useful platform for the DUP". He believed that his party leader Ian Paisley would have no objection.
Robinson said that David Trimble had not represented unionism well by making derogatory remarks. Trimble had described the southern state as "pathetic, sectarian, mono-ethnic and mono-cultural".
McLaughlin responds
Responding to the DUP deputy leader's comments, Sinn Féin party chairperson Mitchel McLaughlin said that unionists must accept Sinn Féin's electoral mandate.
McLaughlin said that the DUP must now act on the reality that Sinn Féin represents the majority of nationalist opinion and dedicate itself to "agreeing a package which will quickly see the political institutions re-established and all of the other outstanding issues resolved without further delay".