19 August 2004 Edition
Government blows wind energy potential
As oil prices hit record highs and global demand continues to rise, An Phoblacht's ROISIN DE ROSA, in the first of a two-part series, looks at the issue of windpower and asks why Ireland has such a dependency on imported fuels when we have Europe's greatest wind generating capacity.
It should be very simple. But it isn't.
A small rural community, anywhere in Ireland where the wind blows strongly, could get together, decide on a spot people are content to use for several wind power turbines, and form a community co-operative. Together they could raise the requisite loan capital and secure a contract from the ESB to supply power to the grid. The gain to the country and the community would be substantial.
A local co-op earning an income is powerful in terms of breaking the dependancy economy and empowering the local community.
Who would be against encouraging, through whatever means possible, community involvement in the generation of energy based on wind power?
The answer is the Dublin Government and the ESB. For all their spin about investment in interconnectors, deregulation of the energy market, their PD inspired talk of increasing competition in energy markets, the government has been hugely backward in beginning to grasp the potential for renewable energy production. It has been positively counter-active in terms of promoting rural community involvement and local co-operative ventures.
Put that in the context of the current development of the West. A recently published report, To Catch the Wind, by the Renewable Energy Partnership, points out that typically, a credit union in the western region has €30 million available to lend to its 8,000 members. But its members only want to borrow €13 million of this, so a huge proportion of local savings, €17 million, seeks investment opportunities outside of the Western region.
This is exactly what peripheral underdevelopment means - the poorest areas end up subsidising investment in the richer areas.
The Bigger Picture
The production of energy from renewable sources breaks the dependence upon fossil fuels. This not only has important implications for reducing our share of CO2 pollution, but also of cutting the huge fine to which the 26-County state is liable when it fails to conform to the limits set by Kyoto, to which we have signed up.
But gain doesn't stop there. A reduction of our dependence upon fossil fuels weakens the link with those states determined to secure for themselves a large fraction of the world's limited reserves of oil. It also holds out the promise that our economy may not be as subject to the volatility of oil prices, which most economists reckon likely, over the coming decade at least, to be most unfavourable.
Whatever about the price of oil and gas, there is every reason to suppose that the commercial, business and political interests that control these resources will not hesitate to hold energy consumers to ransom.
Wind power offers us, long term, the possibility of becoming a major exporter of energy - in fact we have potential and available renewable resources to supply a very large percentage of the EU market with energy.
Excluding Nuclear
And this would replace purchases of electric power across the interconnector with Wales and Scotland, where we end up consuming nuclear power, whether we like it or not. Ireland is a nuclear free country, but packets of electrons coming down the grid don't come with labels, which might enable us to exclude power from nuclear generated sources.
The grid doesn't work that way, nor do the respective costs of electricity reflect the true costs of nuclear power, which is heavily subsidised by the British Government. In fact, were it not for the government subsidy, it is unlikely that nuclear power would be produced at all, given that it has been consisztently shown to be not economically viable.
Submissions to Oireachtas
The point could not have been made more strongly than by the delegation from Meitheal na Gaoithe, the Irish Wind Farmers Co-operative society, based in Kilkenny, in their submission on 14 July to the joint Oireachtas Committee on Communications, Marine and Natural Resources, which was been considering the "role and potential of renewable energy sources, including wind".
Meitheal na Gaoithe is a grassroots organisation representing rural communities and individuals dedicated to ensuring that the harnessing and marketing of 'green' energy does not become the sole domain of the bigger power generators and supply companies.
Their submission said: "Renewable energy needs systems and policies that ensure continuous development of renewable energy now. The steps that have been taken to date have been inadequate, even inappropriate, and have created a system that suits the interests of its own semi-state subsidiaries, and appeases powerful national and international business lobbies, at the expense of rural communities."
The Facts
To Catch the Wind examines the potential for community ownership of wind farms in Ireland and quotes the base figures.
The 26 Counties consumes approximately 21 TWh (terrawatt hours, each one is a billion kilowatt hours) of electricity. The potential generating capacity from wind power is reckoned at 345 TWh per annum, largely onshore windpower. That is 15 times the total amount of electricity generated at present from all sources in the 26 Counties. It represents a huge potential resource.
The latest figures state that in June 2004 there was capacity to generate, through wind power, only 225 MW (megawatts), that is 0.07% of what we could produce. Furthermore, only 3% of the power generated in the 26 Counties came from renewable resources.
Craziness
Our electricity generation in 2002 represents 58% reliance on oil and gas. The EU average is 24%.
Everyone remembers the 1973 oil crisis, when OPEC realised its political strength, and raised the price of oil fourfold. We are 2.5 times more exposed to oil and gas prices than the EU average.
Energy from wind power is not only renewable; wind does not run out in Ireland, it comes free and it is an indigenous resource. We have some of the highest wind speeds in Europe. Every county in Ireland has a commercially exploitable wind resource. As things are, we are 85% reliant on imported sources of energy, where the EU average is between 45% and 50%.
Fossil fuel costs fluctuate in a systematic and negative manner - and it is these fluctuations, above all, which have a negative impact on the economy. With wind power, fuel cost is free and domestically sourced, and 90% of costs are in the form of debt servicing.
As the PDs and Labour witter away about a suitable tax environment to suit Foreign Direct Investment, the Fianna Fáil-led government continues on the blind side, utterly responsible for failure to exploit our real and long term potential to remain in business in the face of the World's increasingly scarce fossil fuel resources.
But added to this is their collusion with the ESB to make community-owned wind power projects impossible. The REP report mentions only two community-owned, small-scale developments out of 29 wind farms operating or under construction in the 26 Counties. These are a 225kW project in Inis Meáin to power a desalination plant and a 660kW turbine at Burtonport to supply a fish processing and freezing plant. This makes up 0.07% of the wind power installed capacity in the 26 Counties.
Price increase
The ESB has recently announced a price increase for electricity that will impact on all consumers. Earlier, it was announced that half a billion euros was to be spent on the upgrading of pollution controls on the coal-fired power station at Moneypoint.
How far would this expenditure have taken the development of community-based wind power were it used instead for subsidisation of the eminently favourable wind power schemes for both rural development and the future economy?
Behind the story of the privatisation and deregulation of markets to favour the interests of multinational business, is a story of crass incompetence in government, which ignores one of our greatest potential economic resources, and worse, fails to grab the opportunity this presents for rural regeneration and indigenous economic development.
An Phoblacht Magazine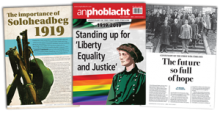 AN PHOBLACHT MAGAZINE:
Don't miss your chance to get the first edition of 2019 published to coincide with the 100th anniversary of An Chéad Dáil and Soloheadbeg.
In this edition Gerry Adams sets out the case for active abstentionism, Mícheál Mac Donncha takes us back to January 21st 1919, that fateful day after which here was no going back and Aengus Ó Snodaigh gives an account of the IRA attack carried out on the same day of the First Dáil, something that was to have a profound effect on the course of Irish history.
There are also articles about the aftermath of the 8th amendment campaign, the Rise of the Right and the civil rights movement.