12 August 2004 Edition
Can Dubs conquer the Kingdom?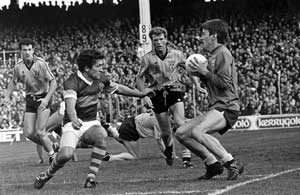 For Dubliner MATT TREASAIGH, political advisor to North Kerry TD Martin Ferris in Leinster House, this weekend's quarter-final clash between Dublin and Kerry is personal. Here's why.
It's September 1992. Donegal are beating Dublin in the All-Ireland Final and I'm sitting watching the disaster unfold in front of the TV in the rec hall in Portlaoise; one of a dozen or so Dubs surrounded by 70 or 80 'comrades' who have all decided that they are from Donegal for the day.
What could be worse? Oh yes. I am sitting beside Martin Ferris. He has decided to support Dublin and all through the match, as I endure the relentless taunts of Ulster men from such football strongholds as Ballymurphy, the Bogside, Dundalk and Waterford (that was you, Eamonn Nolan), Ferris comforts me with assurance that "they think they're watching Celtic".
At the time I believed that Ferris was acting in solidarity with a fellow representative of the two great powers in Gaelic football. Afterwards, I suspected that he was only adding to his own pleasure by observing my pain at close quarters. So, revenge will be sweet. Dublin will beat Kerry on Saturday and I can discuss the finer points of a 2-12 to 0-9 mauling with the Deputy for Kerry North for the next six months.
I might even get a video recorder for the office so that we can watch it over and over again. But I'd better not get ahead of myself here. If Dublin do win, Martin will claim that it is the best thing that could happen to Kerry at the present time; that Kerry have too many All-Irelands anyway; or that it was not really Kerry playing at all but one of the weaker Munster counties, like Cork, say.
Worst of all, however, is that the weight of historical evidence and bitter experience would suggest that Dublin will get beaten. Again. In the last 30 years, in nine Championship encounters between Dublin and Kerry, Kerry have won six; Dublin two and one was drawn (when that @*$£@~ Maurice Fitzgerald equalised in Thurles three years ago. Dan in Conways still has the @*$£@~'s photograph behind the bar in case we might have forgotten).
Six of those games were finals, Kerry winning in 1975, 1978, 1979, 1984 and 1985. Dublin's only final victory came in 1976, although they also won the 1977 semi-final that many regard as the greatest game ever played.
1976. I was on the Hill with my father and uncle and can remember a few details — the sun in my eyes as Keaveney scored the penalty that sealed it; David Hickey's point from 50 yards that seemed to hang for ever in the sky, and the lump in my throat and the hair standing on the back of my neck as the Hill sang at half time and at the end, when at last we had conquered the Kingdom.
Of course it meant a lot more to my father and uncle, who had endured the defeats of 1955, 1959, 1962 and 1965 — years when it seemed that even the best Dublin teams could never beat Kerry. But even then I knew that this was the big one! It also became the occasion for the first breach of RTÉ's ban on the use of profane language, when a beaming Jimmy Keaveny told Mick Dunne that he didn't care if he "never won another fucking match"!
In 1976, I think Ferris was in Portlaoise and I would like to think that Snitchy Ferguson or Nicky Kehoe or some other Dub was sitting beside him in the rec hall to savour the occasion. In 1977, Martin was on hunger strike and before the start of the Dublin vs Kerry League final of that year, two Dublin republicans climbed onto the pitch and carried a banner proclaiming support for Martin and his comrades.
I was in the upper deck of the Cusack with my father, uncle and brother and saw the two boys get as far as the corner at the Canal End before being hauled to the ground by two of the players; one from each of the teams. Our hero, Jimmy Keaveney, did try to pull the Dublin player away but it was too late. I can't recall any other details from that game. It has become one of the episodes that, along with seeing a neighbour dragged beaten from his house by the Branch one morning and black flags for Frank Stagg, recalls the '70s.
Thurles 2001. The old giants are meeting again for the first time since 1985, courtesy of the qualifying system, which one old Dub explained to me meant that we got to be beaten by Meath AND Kerry in the one year! But we didn't know that yet, sitting in Kennedy's as the emissaries from the two distant lands met to exchange diplomatic accreditations.
Someone sang the Foggy Dew. Someone else sang that song Kathleen Largy used to sing, "The Tans remember Kerry". It was like being back sitting in the corner of some dingy pub eating crisps and being thumped on the head by large men with indecipherable accents, assuring me that Jacko would put manners on Big Brian.
The match. Kerry were eight points ahead before some primeval instinct in Dublin saw them score two goals and three points in the space of a few minutes. Then Maurice Fitz equalised with one of the finest points ever scored from below us on the sideline, with Tommy Carr acting as his navigator!
Before Thurles, some younger ones had been wondering what all the fuss was about. Dublin and Kerry? It was a bit like Ali and Frazier. Or Arkle and Mill House. Ancient history. After Thurles, they knew.
So. On Saturday it's all going to happen again and I can't wait. I'm bringing my daughter Ciara, who was there when our hurlers beat Kilkenny last year to win the Walsh Cup, so I consider her a good luck charm. It will be a great day no matter what happens. If Dublin win, I will be insisting that Caoimhghín Ó Caoláin demands an immediate recall of the Dáil so that Martin has to come back to Dublin and suffer. If Kerry win, I am going to apply for a position as republican envoy to the New Hebrides.