5 August 2004 Edition
Everything must change, Moore's the pity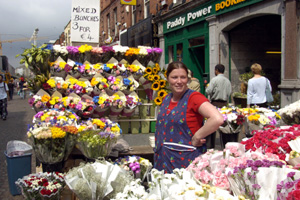 Every guidebook on Dublin's attractions, every 'What to do in Ireland's capital city', carries a small section on Moore Street.
Running parallel to O'Connell Street, the famous thoroughfare is one of the oldest fruit and vegetable markets in the city and is full of the cacophonous hustle and bustle that is characteristically Dublin.
What's more, it's steeped in history. Number 16 Moore Street is where the rebels of 1916 fled to after escaping from the burning GPO. In recent years, Sinn Féin has been instrumental in ensuring the house was saved from demolition by the City Council. In 2003, the party pushed through a motion making it a listed building.
Over the last decade, Moore Street has become a vibrant, thriving microcosm of the changing city. Because the street has been earmarked for development, it has become a focus for the city's new communities, taking advantage of cheap short-term leases to set up international food stores, African hairdressers, international phone shops and ethnic restaurants.
On Moore Street today, traditional 'Molly Malone' Dublin coexists alongside the new multicultural Dublin.
But these days are numbered. As part of a massive plan to renovate the Parnell Street/Moore Street area, developments are afoot to change the traditional market street.
Already, a gigantic new hotel has been built overlooking the street. While attractive in its modern design, its glossy windows and shining red brick front are at odds with the older, smaller buildings that stand behind the market stalls.
Many of the traders say the street has become run-down in recent times and needs a facelift. But change is always hard to cope with and many regular visitors are worried about what will happen to one of Dublin's most famous markets.
To Dubliners, Moore Street will always be more than a tourist draw. Where else in today's rip-off Ireland can you buy ten bananas for a euro, fresh fish for under a fiver, three bunches of flowers for three quid?
The stallholders have been guaranteed their pitches on the redeveloped Moore Street, but its most recent shopkeepers will move on to more affordable addresses.
So enjoy it while it lasts.