5 August 2004 Edition
Coalition's €60 million lifeline for troubled Jarvis
BY ROBBIE SMYTH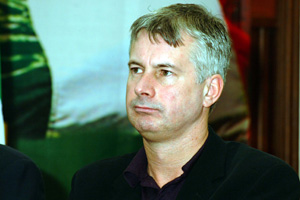 Crowe calls for review of public private partnership contract
Jarvis plc, one of Britain's most controversial and now debt-ridden public private partnership contractors, has been thrown a €60 million lifeline by the Fianna Fáil/Progressive Democrats coalition.
The Department of Education has said it will shortly sign a contract for the building of a new school of music in Cork City with Jarvis.
Sinn Féin TD Seán Crowe has criticised the decision, saying that "introducing Public Private Finance Initiatives are questionable on a range of issues but giving a contract to Jarvis, whose own accountants are expected to qualify the company's accounts, is worrying".
£250 MILLION LOSSES
Last week Jarvis, whose share value has fallen to just 10% of what the company was worth a year ago, announced it had made a £250 million loss last year. The firm's accountants, Ernst and Young, say there are "fundamental uncertainties" undermining the company's ability to continue trading.
These fundamental uncertainties include banking facilities, such as overdrafts etc, which are only guaranteed until the end of March 2005 and there are still doubts on the scale of future losses at the firm.
Last year's losses came from payments of penalties as company projects were delayed or incurred cost overruns, especially school refurbishment contracts.
Jarvis chief executive Mark Hyde announced that the company will stop bidding for school refurbishment contracts and that there is a "risk" that its current projects would not be completed on time.
PENALTIES ON SCHOOL CONTRACTS
It was the liabilities from these risks that prompted the company's lenders to be lenient on Jarvis, as they would have to take on the liabilities for the Private Finance Initiative contracts if the company went bankrupt.
Other Jarvis problems include deteriorating relationships with its subcontractors because of a policy of late payments to suppliers.
The £250 million loss included £110 million for penalties on school contracts and £37 million for quitting rail maintenance contracts. Network Rail, which had hired Jarvis to work on rail track rebuilding, has put in a £16 million claim for defective work.
Added to this is £3 million compensation for the company's involvement in the Potter's Bar rail crash, in which seven people died. The fatal accident happened on a stretch of line that Jarvis was responsible for maintaining.
SAFEGUARDS NEEDED
With construction on the Cork School of Music due to begin in September, Sinn Féin TD and Education spokesperson Seán Crowe asks the obvious question. What safeguards are there that what should be a showpiece educational facility will not end up being late and prey to the problems Jarvis school projects in Britain have suffered?
Jarvis will equip and maintain the building for 25 years at a cost to the Department of Education of €8.2 million annually. In Britain, it was Jarvis's underbidding to win educational contracts that left the company with €110 million in penalty charges last year as the prices Jarvis quoted were too low and it could not complete the work on time.
While these delays have seriously damaged Jarvis's ability to win contracts in Britain, it seems that the Department of Education here is not that easily deterred. Time will tell if Cork will finally get its new school of music, which was promised five years ago.