5 August 2004 Edition
The rising price of power - Sinn Féin TD says ESB has hit a new low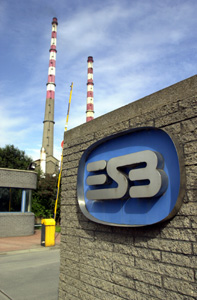 Electricity bills are just one of those things. They come through the letter box every second month, you open them, mutter about how expensive they are, and then go and pay them. We pay whatever it costs because we can't do without it. But lately, we've been paying a good deal more than we should. And that's because the company that provides us with electricity keeps putting its prices up.
26-County residents received a shock last week, when state body, the ESB, was given permission once again to hike its charges.
Having garnered 30% in price increases over the last year and amassed an after tax profit of €249 million in 2003, few suspected the company would be granted permission to up its costs by a further 8% in October of this year.
But that is exactly what did happen, when the Commission for Energy Regulation approved the controversial rise last Friday, citing the escalating cost of oil and other fossil fuels as the reason.
The decision will impact on every household, to the tune of €8.50 on each bill, a figure based on the average €106.65 bimonthly bill.
And what's more, further increases are looking likely, with the ESB demanding another 4.5% rise for January.
To put this recent development in perspective, we need to remember that electricity prices in Ireland used to be the lowest in Europe. They're now among the highest, keeping right in trend with rip-off Ireland.
Tom Reeves of the Commission for Energy Regulation said when announcing the price increase that ESB plants are heavily reliant on fossil fuels, and that their prices are becoming more volatile. He omitted to tell consumers that ESB plants are only working to 76% capacity, meaning we are paying €75 million more yearly than we would if those plants produced the full amount of electricity they have the potential to produce.
He knows this. In fact, earlier this year, he promised to fine the ESB if they didn't get their plants in order. And yet, he chose to give ESB carte blanche to charge customers even more money, even though other energy suppliers, such as wind farms, are able to work to 90% capacity.
Hitting out at the price increases last week, Sinn Féin TD Martin Ferris said that while no party supported state companies more than his, this was because of a belief that privatised companies put the pursuit of profit before anything else. He said that there was no case for "inflicting a heavy price increase on consumers when the company is so financially healthy and rising costs are causing such hardship across the state".
Ferris is onto something. State companies work because they are able to make losses. Consumers should not have to pay through the roof for a service the government is committed to providing.
A further development this week shows the money-grabbing route the ESB has taken.
The company confirmed that it plans to pursue customers for arrears accrued because the ESB itself failed to update its meter system. Sinn Féin's Seán Crowe summed it up when he said the ESB had hit a new low.
"It is a new low for the ESB to hit people for arrears that the company caused by their own faulty billing system," he said. "For a company that recently announced after-tax profits of €249 million, it is staggering to hear that they are going to chase people for electricity use which the customers believed to have already paid for in their bills.
"People who have been struggling for years to pay bills and who thought that they had overcome the problem through a meter system find out that they are once again in debt. I believe that there is a case to be made where people whose meters were not adjusted to register the increases should not have to pay the arrears, accrued through no fault of their own.
"This is particularly important for those many people on low incomes who find it increasingly difficult to meet their bills."