5 August 2004 Edition
Stay Away - Parades Commission must prevent north Belfast parade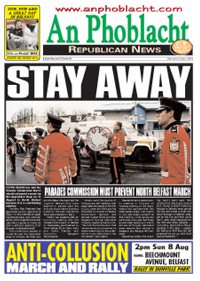 Gerry Adams has told the Parades Commission that it should not permit a march by the Apprentice Boys on 14 August in north Belfast because it is a coat-trailing exercise.
The Sinn Féin President has appealed to the Apprentice Boys, "in the interests of good neighbourliness and common sense, to be magnanimous and voluntarily agree to travel to Derry without walking first through a nationalist area".
The contentious parade is routed through the nationalist areas of Ardoyne, Mountainview and the Dales. One band and the Ligoniel Walkers Club have applied to parade past the Ardoyne shops before boarding buses for the main Apprentice Boys' demonstration in Derry.
Adams was speaking after an hour-long meeting with the Parades Commission in Belfast on Wednesday, accompanied by north Belfast MLAs Gerry Kelly and Kathy Stanton and Councillor Margaret McClenaghan
Adams said the people of Ardoyne are still seething with anger after the events of the Twelfth of July, when the PSNI and the NIO acted to reverse a Parades Commission decision and allowed loyalist bands and their hangers-on through nationalist Ardoyne, sparking fierce riots. "We told the Commission that we are seriously concerned by recent events and by the potential for more difficulties in the time ahead," said Adams.
Residents held a packed public meeting in Ardoyne on Tuesday evening on the issue. Adams told reporters that "the deep-seated anger over events in July was clearly evident" at that meeting. Local people are particularly annoyed that these groups keep applying to march and are let through nationalist areas despite their refusal to engage in any dialogue with residents.
Speaking before the meeting, Gerry Kelly said "the Apprentice Boys get onto a bus, travel a short distance through a Catholic area, get off the bus and travel a short distance through a Catholic area, get on the bus and then go to Derry. After what happened on the Twelfth and other parades - including Apprentice Boys' parades in the past - people are telling us that they are not prepared to put up with that type of treatment."