5 August 2004 Edition
'WE CANNOT GO HOME, WE ARE HOME ALREADY'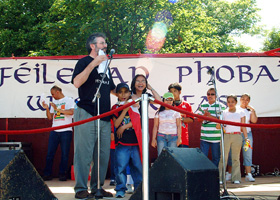 The democratic and progressive politics of the struggle for an independent republic were very much to the fore as Féile fever descended on the people of West Belfast. Gerry Adams MP for the area set the scene for a society not in waiting but in the here and now when he welcomed onto the stage at the Féile opening on Sunday in the Falls Park representatives of the Filipino community living in Belfast.
Their presence on the stage sent a practical and symbolic message against racism.
He made it clear that republicans were totally opposed to any form of racism and thanked those from an ethnic background for choosing to come to Ireland to live.
To loud applause, Gerry Adams denounced racially-motivated attacks, which are taking place on a daily basis across Belfast.
The insidious nature of these attacks and the psychological damage they do to the individual on the receiving end was reflected in the story of a young woman from the Philippines who is a nurse living and working in Belfast.
Armie Cerezo was speaking at an anti-racism meeting in St Mary's University on Saturday.
She has been living in Belfast for four years yet she feels she is not welcome here, feels she doesn't belong here and would leave tomorrow if she could afford it.
Her home has been attacked, her car has been damaged, she is called names in the street where she lives. On one occasion, two ten-year-old boys on bikes assaulted a friend of hers and threw stones at her.
She can't move freely, feels vulnerable all the time and can't settle in her home.
At times she said she wished she was "white, had blonde hair and a beautiful nose", because then she would fit in and be left alone.
Jamal Iweida who runs an Islamic centre in Belfast spoke of the institutional racism he has experienced especially dealing with the police after a racist attack on him or members of the Muslim community.
He has been living and working in Belfast for nine years.
Racially motivated incidents have dramatically increased since the attacks on the Twin Towers on 11 September, although in his experience the "vast majority of Belfast people were against such attacks".
In an incident outside Jamal's home a man with two dogs assaulted him. While the incident was happening he phoned the police on his mobile phone.
The PSNI arrived 45 minutes after the attack had ended, gave no explanation for their delay and a police officer wrote down a different account as to what happened than the one given to him by Jamal. They were not at all helpful.
The following morning, Jamal's car was completely destroyed outside his home.
He described another incident when a man was sending the centre hate mail on the Internet. Jamal contacted the police. They said they could do nothing about it because they couldn't trace the e-mail. They didn't think it was serious and only moved to trace the individual when he threatened to kill members of the Islamic community.
This example of institutional racism extended to his efforts to buy a house for the Islamic centre. He wanted to expand their premises by buying the house next door.
He applied in the normal way to the estate agent. They said they would be in touch. They never contacted him again. When he contacted them they pretended the property was not for sale.
A short time later Jamal discovered the house had been sold. And what made matters worse two leading Trade Unions in the north were involved in competing to buy the house and one of them bought it.
Jamal's bid was completely ignored.
Bernadette McAliskey called on nationalists and republicans to challenge those carrying out racially motivated attacks in the same way they challenged the crown forces when they saw someone stopped at the side of the road or a home being raided.
Fr Des Wilson, who chaired the crowded meeting, said the situation for Belfast's ethnic community was intolerable.
He said the answer to anyone who said to people of another race 'go home' is, "We cannot go home. We are home already."
Sarah Boyce from the West Belfast Anti Racist Network (WARN) challenged the perception that racist attacks were happening only in loyalist areas.
They were also happening in nationalist areas like West Belfast although not on the same scale and loyalists were actively targeting members of the ethnic community in exactly the same way they target members of the Catholic community.
WARN is involved in a range of activities at different levels of society including schools promoting inclusion and cultural diversity.
The nature and extent of racially-motivated attacks requires a comprehensive society based challenge to them. Republicans have a leading part to play.
They need to use the skills, dedication and support they have built up over the years to defeat this campaign of intimidation and protect those on the receiving end.