22 July 2004 Edition
Rotten apple theory won't wash
BY Justin Moran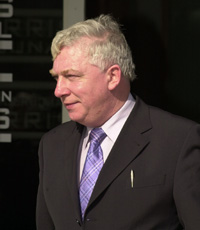 After the report of the Morris Tribunal last week, it is clear to even the most dedicated Garda apologist in the media that the old cliché of a few bad apples no longer suffices. The whole orchard is a rotten mess of unaccountable Garda officers indulging in corruption, thuggery, lies and frame-ups.
On the surface of it, the facts are quite straightforward. A young Donegal woman, Adrienne McGlinchey, fabricated information and rumour, which she passed on to the Gardaí. She did this to portray herself as an IRA informer and her motivation seems to have been simply a desire for attention and her own amusement. These activities eventually brought her into contact with Inspector, later Superintendent, Kevin Lennon, a 30-year veteran of the force, and Detective Noel McMahon, a former Dublin Branchman.
Over a period in the early 1990s, McGlinchey was manipulated by these two officers into planting explosives and other alleged IRA material so that it could be 'uncovered' by them in order to advance their own careers. During this time, McGlinchey was protected by her handlers and was never charged, despite 16 arrests and increasingly bizarre behaviour.
While parts of this first Morris Report (there is much more to come) read like a thriller, others have more in common with farce. Perhaps the most bizarre episode involved a trip by Adrienne McGlinchey to the United States in November 1994.
Bizarre episode
McMahon claimed he believed she was going to New York "more or less on behalf of the PIRA and that she had to collect some documents and there was reference to a plate with regards to counterfeit money and that she would be taking these things back to Ireland and that was the main reason for going and that her expenses were being paid for by the PIRA." The documents were vaguely supposed to be connected to weapons to shoot down helicopters.
The Special Branch let their counterparts in the United States know of McGlinchey's planned trip and she was monitored for the duration of her visit. Yet, far from furtive meetings with IRA contacts, McGlinchey and a friend dressed as leprechauns and sold pieces of turf from Donegal in various pubs in New York. No doubt, it appeared more than a little peculiar to the FBI.
As Justice Morris notes: "Apparently, business was brisk. It suffices to say that any security agency that might have had any dealing with them would very quickly have concluded that their activity... was inconsistent with the actions of persons intent on terrorism."
But Lennon and McMahon were playing for high stakes with McGlinchey, manipulating her into fulfiling her fantasy as an IRA operative in order to bolster their own careers. In order to protect their 'source', they were willing to use almost any means.
Gun to head
In late 1992, McGlinchey was arrested by uniformed Gardaí in Buncrana, who discovered a tripod wrapped in a black plastic bag nearby. On hearing of the arrest, Lennon and McMahon went to the station, knowing that the tripod was another one of McGlinchey's hoaxes. In order to prevent a forensics examination, McMahon offered to personally take the tripod to the ballistics section in Dublin, something the uniformed Gardaí objected to, seeing it as an attempt to steal the credit for finding the device.
McMahon's response, in a room full of uniformed Gardaí, was dramatic. He immediately drew his standard issue revolver, pointed it straight at the head of a uniformed Garda and repeatedly cocked the hammer for a period of what one witness estimated to be 20 seconds, before being calmed by Lennon.
Despite the seriousness of what had just occurred, one Garda pointing a loaded firearm at another, no disciplinary action was taken and Lennon covered up for his subordinate. The two men left the room with the tripod, which then disappeared.
Unanswered questions
The Morris Report portrays a force out of control, with the Gardaí in Donegal displaying all the characteristics of a disorganised criminal gang, complete with an omerta code of silence over the allegations.
But the report is only the latest example of a force spiralling out of control and arrogant enough to believe, with some justification, that a Garda uniform makes you above the law. The deaths of Richie Barron, John Carthy and Kerry republican Johnny O'Shea are marked by unanswered questions.
Brutal assaults on May Day protestors were followed by a Prime Time exposé of repeated abuses of power and cover-ups. Missing files on the Dublin and Monaghan bombings, the framing of Frank Shortt, kickbacks for Gardaí from tire contractors, and statements from serving judges that they believed confessions to be regularly falsified, add to the image of a force out of control and out of touch.
Eddie Fullerton
For republicans, especially Donegal republicans, the Morris Tribunal raises a number of questions in relation to the 1991 assassination of Sinn Féin Councillor Eddie Fullerton by a loyalist death squad. Detective McMahon was centrally involved in the botched Garda investigation into the case.
Eddie's son Albert says the Morris Report adds weight to the family's demands for an inquiry. "On the back of the Tribunal's finding that McMahon was a corrupt officer and in light of the central role he played in the investigation, we reiterate our call for a full public inquiry into Eddie's death. We will not accept any stalling tactic such as was forced on the Finucane family."
Sinn Féin Councillor Pádraig Mac Lochlainn concurs. "What is needed now is an independent inquiry that will uncover the truth not only into the murder of Eddie Fullerton but what role the Gardaí played in the cover up that followed," he says.
But while Justice Morris rightly deserves praise for a report that is clear, accessibly written and pulls no punches, its sweeping recommendations are to be implemented by none other than senior Garda management. So the very people whose shoddy procedures, incompetence and lax discipline helped create the problem and protect the culture that allows thugs like Lennon and McMahon to thrive, are the ones tasked with fixing it.
Unless the root and branch reform of the Gardaí is taken out of the hands of people with a vested interest in covering up the truth and preventing any real change, the force will continue to malfunction. At the start of the week, as I read through the Morris Report, I was interrupted by an Ográ activist who had dropped by looking for Garda Complaint forms to register another incident of petty harassment of young republicans by the Special Branch. Even after Morris, Gardaí continue to think they can walk all over the citizens they swore to protect.