22 July 2004 Edition
IMC report greeted with derision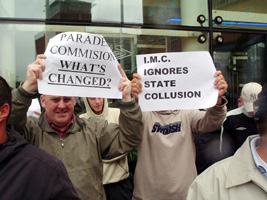 Dozens of republicans, including members of the families of four Belfast republicans imprisoned over the Bobby Tohill affair, staged a picket outside the Hilton Hotel in Belfast on Tuesday 20 July, as the so-called Independent Monitoring Commission (IMC) released its second report.
The IMC's remit was to outline the extent of British demilitarisation over the past five years. Its findings were met with derision by Sinn Féin's Alex Maskey who said that "nationalists in the Six Counties do not require the IMC to tell them that the British Government has not delivered on its commitments to demilitarise under the Good Friday Agreement.
"The IMC has already shown itself to be a willing tool of both the PSNI Special Branch and other securocrats within the British system," he added. "It operates outside the terms of the Good Friday Agreement and has no credibility within the nationalist and republican community."
In this, its second report, the IMC disclosed that there are still 15,000 British soldiers on active duty in the Six Counties, almost twice the 8,500-strong garrison that is being used in the occupation of Iraq.
"The fact that the British Government has 8,500 troops in Iraq in the middle of a war and they currently have just under 15,000 stationed in the Six Counties, ten years into the Peace Process, says much about British intent towards Ireland," said Maskey. "The fact that republican areas are still saturated with spyposts and war apparatus almost ten years on from the IRA cessation is an indictment of the British failure to honour their commitments to demilitarise."
According to the IMC, 10 out of 19 watchtowers and observation posts have been demolished, while the number of British military bases has fallen from 32 to 24. The IMC also claims that helicopter overflights have been reduced by 33%, from 25,000 operational hours to 16,500 hours.
However, Toni Carragher of the South Armagh Farmers and Residents Committee, has rubbished the IMC report. She accused the British Government of remilitarising in Border areas rather than scaling down its military presence.
"Who is the IMC trying to fool? Nothing has changed, in fact it's getting worse," she insists.
"The British Army is refurbishing its bases in South Armagh, not dismantling them. Helicopters are flying around South Armagh every hour of the day and night. Maybe in other areas the situation has improved, but not here.
"There has been no difference made to our everyday lives, we are still subjected to British soldiers patrolling our streets."