22 July 2004 Edition
Dunnes Strike legacy shows potential of unions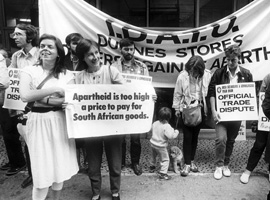 This summer marks 20 years since the start of the Dunnes Stores anti-Apartheid Strike in Dublin. That struggle stands with the 1913 Lockout as a key moment in the history of trade unionism in Ireland.
In July 1984, workers at Dunnes Stores on Henry Street went on strike following the suspension of a 21-year-old cashier, Mary Manning, for refusing to handle fruit from South Africa in opposition to the Apartheid regime. Selflessly, these workers remained on strike for two years and nine months.
At a time of high unemployment, these young workers risked their jobs and their future in an act of solidarity with the oppressed people of South Africa. Their contribution to the fight against Apartheid is internationally recognised and remembered in the Ewan MacColl song, Ten young women and one young man.
One Opposition TD in Leinster House, speaking during the course of that strike, spoke in support of the workers, saying:
"For 18 months, this small band of workers have taken a stand against the South African regime in the way they thought fitting. They are supported by the Trade Union Movement, by most workers and by people in all sections of Irish society. However, apart from finances, three or four of the people involved have severe health problems as a result of being out in inclement weather. It is within the jurisdiction of the Government to force a conclusion in this case. The people concerned have made a stand and they deserve assistance. It is unreasonable to expect them to go back and to handle South African goods — they will not do that. Has the Minister any hope to offer other than to say he is considering the position? The strikers have taken a brave stand for 18 months. Some of them are in ill-health and they deserve help."
Who would believe the man who spoke those deceptively heartfelt words, Bertie Ahern, would be responsible a few years later for the introduction of the most regressive and anti-union legislation that the State had ever seen. How was it that a person who defended the actions of the Dunnes Stores Strikers embraced the ideology of William Martin Murphy and introduced the 1990 Industrial Relations Act, a piece of legislation that would affect the ability of trade union members to take effective strike action.
Interestingly, the 1990 Industrial Relations Act, which rules out solidarity picketing even by members of the same union and makes it virtually impossible to take action in defence of an individual worker, was introduced at a time when Bertie Ahern was a Minister in the Cabinet of Charles Haughey. Coincidentally or not, the period during which this legislation was drafted, placed before the Dáil and passed is the same period that Charles Haughey received vast amounts of money from Ben Dunne, admitting to the McCracken Tribunal in July 1997 that he had received €1.3 million from the then Dunnes Stores boss.
The Dunnes dispute reminds us that the strike is a democratic political tool, and not merely to gain wage increases. The role that strike played in bringing about a ban on the import of South African produce and in economically isolating the apartheid regime is one of the finest examples of how workers can, through strike action, bring about political change. The establishment here today would have us believe that workers strike merely in their own interests and only to further pay claims. They would have us forget that unions developed to allow workers in solidarity to make it known that an injury to one was an injury to all and to fight for better working conditions.
The Dunnes Stores Strike eloquently demonstrated that industrial action can play an integral role in global solidarity and in participative democracy by giving to otherwise disempowered sections of society a tool for making their voices heard. In unity there is strength and the threat of this strength was the catalyst for the development of so-called Partnership process and the simultaneous introduction of legislation to restrict union activity.
The right to withhold labour is fundamental and yet trade union recognition is not enshrined in 26-County law. Despite the Labour Party, the alleged voice of the unions in this state, having been in government on numerous occasions, legislation to protect this fundamental right has not been delivered on.
Trade unions are increasingly hamstrung by their outdated links with the Labour Party in the 26 Counties. The shared membership of the higher echelons of both lack any radical edge or real commitment to improving the rights of working people. There is a growing gulf between the highly paid union leadership that makes up the toothless ICTU and low paid workers, for whom the Partnership Process has not delivered.
The Labour Party has become complacent about the support it receives from the unions, believing it can carry that support even as it moves rapidly towards the centre, away from it roots, and seeks to become a party that gains significant support from the middle and upper middle classes.
Establishment politicians are quick to decry the low voter participation one moment and the next condemn trade unionists who take strike action, whether to prevent the breakup of our public services, to protest the unfair treatment of a co-worker or in pursuance of proper pay.
As republicans, we are committed to enabling local communities and citizens to empower themselves through participative democracy, by exercising their right to vote or by involvement in community organisations or the trade union movement.
As part of that, we must value the importance of the right to strike.
Unions and strike action have played a vital role in combating brutal and dangerous working conditions, past and present, in tackling child labour, starvation wages and establishing a 40-hour working week.
We must remember the impact and importance of labour actions such as the 1984-'86 Dunnes Stores Strike.
Nobel plaudits
Speaking to the Irish Anti-Apartheid Movement on 19 March 1985, Nobel laureate and former Chief of Staff of the IRA, Seán MacBride, paid tribute to the Dunnes Stores strikers:
"In an otherwise very dismal situation in Ireland, allow me to highlight one of the very few points in regard to which we can take pride. I refer to the action of one girl, Mary Manning, who in response to the dictates of her conscience and with a sense of moral understanding and responsibility on her own, took the initiative to refuse to handle South African fruit in one of the chain stores in Dublin.
"She has now been joined by several of her colleagues, who are picketing Dunnes Stores in Henry Street in protest against the sale of goods plundered from the people of South Africa.
"Mary Manning and her colleagues have responded to the dictates of their consciences and have been prepared to make tremendous sacrifices in order to defend an ideal and a principle. We should salute them."