22 July 2004 Edition
Memories of a union official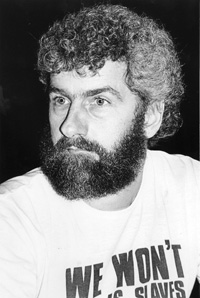 Brendan Archbold was the IDATU union official in charge of the Dunnes Store Strike in 1984 (the strike actually started when IDATU was called the IUDWC). Still an official with the same union, now called MANDATE, Brendan spoke to us about his memories of the strike.
An Phoblacht: What impact do you think the strike had?
Brendan Archbold: The impact was the symbolic effect it had. In terms of the pure financial effect, I don't think we set any alarm bells ringing in Pretoria (capital of South Africa). Ireland wouldn't have been their most important market by any stretch of the imagination. But symbolically, it had a great impact. It was well organised and received publicity from around the world. It was a real stand against Apartheid and sent a shiver through the South African administration.
Is there much difference between being a union official now and being one then?
Some things are the same. Dunnes was a crap employer 20 years before the strike, they were crap employers during the strike and they're still crap employers. They've had three generations of anti-union management. In terms of what's changed, I suppose you could say today's society is much more consumer obsessed than it was. It's that new philosophy, 'I spend, therefore I am'. I don't know how the public would react to a strike like that now.
What was the most significant thing about the strike?
I suppose the fact that the group were prepared to go out in solidarity for people they'd never even met, in a time of unemployment and hardship. They have to be admired for that.
Is the boycott tool still effective and are there any goods you believe should be boycotted now?
I think there are a lot of candidates for boycotting at the moment, particularly Israeli goods. And there are a lot of other things we should be doing in solidarity with the developing world, not necessarily by boycotting, but even through supporting the Fair Trade Movement. But I think the boycott is not used as effectively as it could be. The trade unions need to work out a clear plan